Fapper Friday to you all, my little gingersnaps. Are you ready for the weekend? Any cool plans? The G-Force5 family will be doing massive Spring Cleaning this weekend. Yes I know it's Summer, but better late than never, right?

In the news, a Georgia woman was deeply distressed over her Mug Shot after getting arrested, so she called 911 to complain about it. Since calling 911 with a non-emergency is a crime, she was re-arrested and given an opportunity to take a new Mug Shot. I wonder how she feels about the new one.

Tonya Fowler Dials 911 Over Bad Mug Shot in Georgia: Police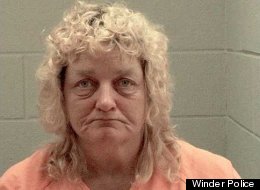 If you don't like your mug shot, here's a surefire way to get it redone.
Georgia woman Tonya Fowler was so upset when she saw her terrible mug shot in a local broadsheet, she dialed 911 to report her displeasure, according to Barrow County News.
Cops said Fowler, of Commerce, called in the emergency on Sunday when her face appeared in the Bad & Busted mug shot paper for a previous arrest, according to police reports obtained by The Smoking Gun.
"Ms. Fowler contacted 911 earlier today in reference to being upset about a picture," an officer stated in the report. "I informed Ms. Fowler to contact 911 for emergencies, injuries or violence."
While the quality of her picture may have been obscene, messing with 911 operators is a real crime. She was arrested again, charged with unlawful use of the emergency service, and given a new mugshot (seen above).
But it wasn't the only time she'd called 911 operators that day. Before the mug shot flop, she called to report that she needed a place to keep her sleeping bags, The Smoking Gun reported. Apparently, the residents of a random house in Commerce wouldn't let Fowler keep her sleeping bags in their home.
Source: huffingtonpost

Mortal Instruments has cast the characters Magnus, Jocelyn and Hodge. I've never seen the guy playing Magnus, but I'm sure he'll look fabulous with all that glitter.

Lena Headey (boo!) will be playing Jocelyn. I disliked her in the 'Sarah Connor Chronicles' (as did everyone who worked with her on that show) and I dislike her in 'Game of Thrones' though that's okay because she plays a very unlikeable character. I don't want this woman to play a nice character. Since the line between fiction and reality is very blurry in my head, the fact that she's not nice in real life means I don't want to see her playing nice characters.
Now Hodge will be played by Professor Moriarty! (Jared Harris). I think that's a brilliant job of casting and I can't wait to see him play that complicated character. The movie begins filming next month and is scheduled for an August 2013 release date.

'Mortal Instruments' Conjures Its Magnus, Jocelyn And Hodge

The streets of author Cassandra Clare's Brooklyn are looking far less deserted thanks to three (!) new additions to the cast of "The Mortal Instruments" movie "City of Bones."
Cassie announced today via her Tumblr that model/actor Godfrey Gao will play magical Magnus Bane, "Game of Thrones" actress Lena Headey will play Jocelyn Fray and "Sherlock Holmes: Game of Shadows" actor Jared Harris will play Hodge.
The author heaped plenty of praise upon the film's fresh faces:
"Godfrey is, in addition to being all gorgeous and stuff, super-talented (his audition was awesome), loves the books, and is, like Magnus, ridiculously tall," she wrote.
"I have had an actress crush on Lena for years so when they told me she was cast I did a happy dance and hit Sarah Rees Brennan on the head with a spoon," she continued. "Actually I would have done that last bit anyway. Lena is amazing and I think she will be amazing as Jocelyn. I am super psyched."
And, as for Jared, "He's got SAG awards all over the place and I think he'll really nail Hodge's moral dilemma."
The trio join a burgeoning cast, which now includes Lily Collins as Clary, Jamie Campbell Bower as Jace, Robert Sheehan as Simon, Jemima West as Isabelle, and Kevin Durand and Robert Maillet as Valentine's henchmen.
The supernatural movie is set to begin filming next month with an August 2013 release date.
In celebrity news, 78 year old Fred Willard was arrested for pulling a Pee Wee Herman in an Adult Movie Theater. Fred is saying it didn't happen. You know, it depends on the definition of "happen". He didn't do it? Or it didn't happen for him? Well of course it didn't
happen
for him because the Police interrupted and ruined the mood. Though I have to wonder... how long was he doing it, that someone had time to complain, call police, have police arrive AND catch him in the act? Then again he is 78. Maybe things work slower when you're 78.
Fred is "rumored" to be in pre-production for a movie entitled ... "
The Yank
." Perhaps he was just doing research?
Fred Willard Arrested for Lewd Conduct at Adult Movie Theater

Fred Willard
was arrested for lewd conduct last night in Hollywood when police allegedly caught him with his pants down in an adult movie theater ... TMZ has learned.
According to law enforcement sources, LAPD undercover vice officers went into the Tiki Theater in Hollywood and found the 78-year-old "Anchorman" star watching last night's feature ... with his penis exposed and in his hand.
We're told Willard was arrested around 8:45PM and booked for lewd conduct.
It was a quick release -- we're told he was out of police custody a short while later.
As for which movie Fred was watching -- there are 3 flicks in rotation at the theater ... "Follow Me 2," a XXX parody of "The Client List," and "Step Dad No. 2."
Willard is best known for his memorable roles in "Best in Show", "For Your Consideration", "American Wedding" and "Everybody Loves Raymond."
According to IMDB, Fred is "rumored" to be in pre-production for a movie entitled ... "
The Yank
."
It's a comedy.
Speaking of Fred Williard's willy, Twitter has responded with hilarious tweets about this situation. (see below)

Funniest Tweets Reacting To Fred Willard's "Lewd Conduct" Arrest

Dear Fred Willard, there are some amazing websites I need to tell you about. All from the comfort of your own home.

— Zach Braff (@zachbraff)




FREE FRED WILLARD.

— Anders Holm (@ders808)
If I was in charge of licenses that allowed the owner to masturbate wherever they liked, Fred Willard would be the first to receive one.

— Graham Linehan (@Glinner)
Someone needs to tell Fred Willard that porn theaters have been moved to laptop computers.

— Josh Wolf (@joshwolfcomedy)
Launching a Kickstarter to buy Fred Willard a modem.

— Shawn Levy (@shawnlevy)
Fred Willard was arrested for masturbating in a movie theater. That is the best review of "The Dark Knight Rises" so far.

— Betty F*ckin' White (@BettyFckinWhite)
At least Fred Willard wasn't caught eating at Chick-fil-A

— Eli Braden (@EliBraden)
Fred Willard was arrested in a theater for doing what Sean Hannity was doing to George Zimmerman on TV.

— John Fugelsang (@JohnFugelsang)
There's old school & then there's Motherfuckin Old School.Fred Willard, bitches!

— Denis Leary (@denisleary)

I've masturbated at an Olive Garden. Your move, Fred Willard.

— America's Hero (@HaHaWhitePPL)
Fred Willard getting arrested for jacking it in a theater is the ugly side of old people hating the internet. This could've been avoided.

— Brett (@thecajunboy)
"American Wedding" is still the worst thing Fred Willard's done in a theater.

— Chase Mitchell (@ChaseMit)
That British guy who plays the other commentator in Best in Show was sitting next to Fred Willard the whole time getting more & more upset.

— Ken Jennings (@KenJennings)
Fred Willard has become the most extreme example of those old people not knowing how computers work

— Sarah Thyre (@SarahThyre)
I like any day when Mayim Bialik is nominated for an Emmy and Fred Willard is arrested for masturbating. Congrats to you both.

— billy eichner (@billyeichner)
This Fred Willard story is EXACTLY why I don't masturbate publicly.

— Joshua Malina (@JoshMalina)
Source: whatstrending

And now, for today's FAIL... Ohhhhh, that's embarrassing. WTF kind of underwear is he wearing anyway?


see more epicfails
And today's WIN! (also for Spank)


see more WIN - Epic Win Photos and Videos
Hey, WTF?!! Patriotism... you're doing it wrong.


see more Poorly Dressed

And that's all the time I have for today. Have a fabulous weekend and I'll meet you back here on Monday. Until then, this should clear up the Ninja vs. Pirates argument once and for all...

Kung Fu Monks Were Once Called In To Fight Off Pirates!

In 1553, a group of monks were called from their quiet life of meditation to defend their nation. Despite their peaceful nature, these monks were famed throughout China for their specialized Kung Fu skills and deadly reputation. One monk was said to have taken on 8 men and lived.
They had also fought in, and possibly won, wars for China. The enemy they were defending their country from were a group of pirates from Japan and eastern China. Most turned to piracy due a political situation in Japan meaning that there was no government and it was extremely hard to earn a living. Some others, however, took to the seas looking for an adventure.
The monks and pirates first clashed in the spring of 1553. There isn't much information about the battle but it appears to have been a victory for the holy men. The second clash took place on July 21st of that year. Each side had roughly 120 fighters. While the monks only suffered four casualties, every single pirate was killed. While the monks won the third battle once again, the fourth fight was a victory to the pirates, due partly to the monks losing an interest in being warriors.