Magic Monday to you all, my little gingersnaps. How many of you saw "Magic Mike" over the weekend? Jamie and I, and my friend Malia went to see it Saturday night. We went to the 21+ showing, which means there's a bar right outside the screening room and you can bring your drinks inside. I think every movie should be seen that way. We met at Cheesecake Factory for drinks before the movie, then stocked up on drinks to consume while watching the movie.

Here's Jamie and I in the theater waiting for the movie to start.

So how was the movie? Well, the alcohol helped with the fact that there was no real plot, no sex scenes and the fact that it ended at a really weird place without any closure. But there were lots of male butt shots. Not enough Joe Manganiello. And some weird old stripper with long hair that looked like a cross between Dog the Bounty Hunter and Micky Rourke who went by the name, "Tarzan". But I was impressed by Channing Tatum's dancing skills. I mean, he used to be an erotic dancer prior to acting, but that boy can really bust a move. Bottom line: if you plan to go, I would advise you to drink some alcohol prior to going. Unless you're underage or a recovering alcoholic, and in that case I'd recommend you just skip it altogether.

In the news, an Ohio man called 911 ten times to complain about the service he received at Skyline Chili's. Earlier he had been escorted from the restaurant by officers for refusing to pay for his food. He was allegedly drunk when he called 911 repeatedly from his apartment, demanding police come to his home. He was arrested and charged with disorderly conduct while intoxicated. Previously a Connecticut man called 911 to complain that a deli had delivered the wrong sandwich order, and a Florida woman called 911 to complain about having received a bad manicure.

I only ever called 911 once. I was in a pizza shop, hanging with some middle school friends of mine and dialed on a pay phone inside. I hung up as soon as someone answered it. They immediately called back and the pay phone inside rang and rang until I picked up and they demanded to know who had called 911. I was pretty much shamed from then on out about calling them falsely. But maybe I should call them next time one of my kids is acting out. Yeah, that's right. I can ask them to send an officer to my house to arrest one of my kids. #brilliant #motheroftheyear

Christian Luckett Called 911 To Complain About Skyline Chili's Service, Cops Say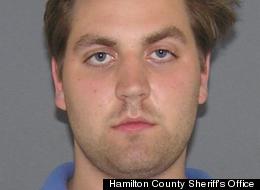 Bad service isn't a crime, but sometimes, being a bad customer is.
Christian Luckett, 20, has been charged with one count of disorderly conduct while intoxicated after placing 10 calls to 911 to complain about his service at a Skyline Chili restaurant in Cincinnati, Ohio.
Officers led Luckett out of the restaurant earlier in the evening for not paying for his food, according to Hamilton County court documents, reported FOX 19.
Documents do not indicate the nature of Luckett's grievance with Skyline Chili's service.
Luckett was allegedly drunk when he called the police and demanded officers come to his home for a domestic disturbance -- but he was really just mad at Skyline Chili's. Cops arrested him at his apartment.
Luckett waived his right to a lawyer and pleaded not guilty in a Hamilton County court Wednesday afternoon, reported the KY Post. He will appear in court again July 12.

Previously, a Connecticut man called 911 to report that a deli had delivered the wrong sandwich order and a Florida woman called 911 after receiving a bad manicure.
Source: HuffingtonPost

Are you a fan of the show, "True Blood"? (if not, WHY NOT?!) Anywho, they now have a line of True Blood Beauty products which include makeup, candles, perfume and nail polish. No word yet on whether any of those products makes you more attractive to Alexander Skarsgard or Joe Manganiello.

Forsaken, A Line of True Blood Beauty Products
on
According to InStyle, HSN is going to roll out Forsaken, a line of beauty products based on the popular television series, True Blood. It includes nail and lip colors developed by celebrity manicurist Deborah Lippmann, fragrances by Givaudan, a scented candle by DL & Co., a body cream, a body veil, and more. Lippmann's scented polishes will have vampirish names like 'Let it Bleed', 'Strange Love' and 'Bad Blood'. There is also the Sookie Sookie Set which includes Fairy Dust ("mortal putty taupe") and Human Nature ("ethereal shimmer") nail polish. The lip color is (naturally) blood red and called 'Bite Me'. The line is expected to be available in August 2012 on HSN. Take a look at InStyle's image gallery for all of the products. In 2009, you may recall that we posted about Tru Blood O Positive, a blood orange carbonated drink (based on the show's synthetic blood beverage for vampires) created by Omni Consumer Products.
'Bad Blood' nail polish was inspired by True Blood character, Pam and 'Fairy Dust' by Sookie
In celebrity news, something is clearly suspicious about the demise of Tom Cruise's 3rd marriage. Apparently all three of his former wives divorced him when they were 33. And the number 33 has some significance among Scientologists. One former Scientologist says, "The number 33 is known as the 'Master Teacher, It represents altruism and increasing your positive energy. It's associated with healing powers through love." Uh, Master Teacher? I must have had too much wine at dinner because that makes NO sense to me whatsoever.

Katie Holmes, Tom Cruise Divorce: Scientology And The Rule Of 33 Talk about an unlucky number. Tom Cruise's three marriages -- Mimi Rogers, Nicole Kidman and Katie Holmes -- all ended when each lady reached 33 years old, leaving many to wonder if it's just a coincidence or if something else is going on.

"The number 33 is known as the 'Master Teacher,'" one former Scientologist tells me. "It represents altruism and increasing your positive energy. It's associated with healing powers through love."

Cruise married Rogers in 1987, when she was 31, before they broke up in 1990. His second marriage to Kidman lasted ten years before they split in 2001, when she was 33. Finally, Cruise wed Holmes in 2006 when she was 28; she filed for divorce last week at the age of 33.

"You can expect the church of Scientology to come be discussed in great detail around this split, but the age of all three wives when the marriage broke down is a coincidence," the former Scientologist argues. "Marriage problems come from what Scientologists call 'withholds' or what the rest of use call 'not communicating.' Tom's divorces have nothing to do with his wives turning 33. Plus, if Katie did blindside Tom with the divorce, unless she plans to continue to study [scientology], then the number 33 significance has nothing to do with the split."
Coincidence or not, the church of Scientology seems to be hot on Holmes' tail. According to a report from TMZ,
a Scientology dispatch has been f
ollowing Holmes around for weeks
, viewing her as a "threat to the organization."
In related news, Katie Holmes believes that the Church of Scientology is having her followed, believing her to be a threat to the church. Uh yeah. And we should be surprised by this because...? It's a freaky, scary cult that some people have not been successful at getting out of it alive. (plenty of accounts online about that). Let's all be thankful that Katie is getting out, and hope she is able to wake up from her Stepford wife-like trance she's been in ever since she married Tom Cruise. Now perhaps Tom will be free to get together with John Travolta.

Is the Church of Scientology Having Katie Holmes Followed?
If Rupert Murdoch calls you "creepy, maybe even evil," you might have an image problem.
The News Corp. chief executive took to his Twitter account to express his opinions on the Tom Cruise and Katie Holmes divorce — or rather, the role that Scientology may have played.
Scientology back in news. Very weird cult, but big, big money involved with Tom Cruise either number two or three in hierarchy ... Watch Katie Holmes and Scientology story develop. Something creepy, maybe even evil, about these people.
Murdoch claims he's received "hundreds of attacks" since his comments, but he can certainly pay someone to handle those. What did he mean by the "Katie Holmes and Scientology story," though?
It's likely that Murdoch was referencing the rumors that Katie Holmes left Tom Cruise to rescue their daughter Suri from life as a Scientologist. But the story Murdoch alludes to could be larger than that: today, TMZ reported that Holmes fears she is being followed because she is a threat to Scientology.
Apparently Holmes believes she's been tailed since before the divorce, when her relationship with Cruise was becoming increasingly strained. TMZ also says she feels especially targeted in New York City, which is where she had planned to get away from her husband.
TMZ can only cite sources close to Holmes, so the story is hard to verify. On the other hand, they point out the presence of a white Cadillac Escalade and a black Mercedes SUV in many photos of Holmes. Other sources claim to have seen "mysterious" men lurking about.
But then, there are plenty of journalists and "journalists" following Holmes — that's why there are so many stories about her on TMZ. The site acknowledges that the cars in question could be from a publication, though they don't mention which. Meanwhile, Scientology has refused to comment. (Big surprise there.)
One could dismiss this story as mindless tabloid gossip, or even the paranoid suspicions of a person who has had much of her private life exposed against her will. But given the Church of Scientology's history of intimidation, it does give pause. If Holmes can eventually prove that Scientologists are keeping track of her, it would certainly help with her fight for sole custody of Suri.
[Image via TNYF/WENN.com]
Source: Gawker

In other celebrity news, R. Kelly says he wept and wept after watching "The Notebook" and realized from watching it that his marriage was over. Um, R? (can I call you "R"?) That was JUST A MOVIE. Even the actors in the movie couldn't keep their relationship alive. Perhaps it's not a good idea to compare your marriage to movie relationships. Also it's probably a good idea to practice monogamy and to not have sexual relationships with underage girls. Then maybe your relationship could live up to the epic movie relationships.

R. Kelly Says 'The Notebook' Led to His Divorce
R. Kelly has always been an emotional guy, but who knew chick flicks got under his skin so badly? The 'Write Me Back' singer details his divorce from wife Andrea Kelly, including what led up to the split, in his new book, 'Soulacoaster, The Diary of Me'. (We'll give you a second to stop chuckling at the title. Okay, ready?) The biggest catalyst? Apparently, 'The Notebook.' Yes. 'The Notebook.'
Kelly, who's undergoing medical treatment for vocal cord issues, describes a lot of drama leading up to the demise of his marriage to his former dancer. He says that Andrea wasn't thrilled about putting her dance career on hold to be a stay-at-home mom, while he had his own issues keeping it in his own pants. Not exactly a recipe for wedded bliss, right? (Though it likely provides some sweet inspiration for all those 32 chapters of 'Trapped in the Closet' that he's working on.)
After a long series of dramatic and escalating arguments, the couple's problems snowballed and eventually became an avalanche — resulting in Andrea hurling her $50,000 wedding ring into a pond in the couple's yard.
Once Kelly knew he could pretty much stick a fork in the relationship, he went to the movies alone to reflect, where he took in the Ryan Gosling and Rachel McAdams melodrama. In his tome, he recounts how emotional the film got him. "As the film credits started to roll, I couldn't move. I burst into tears. People walking past me patted me on the back, trying to console me," Kelly wrote (excerpt via Hip-Hop Media Training). "'The Notebook' was beautiful, and I was crying because its hero and heroine had died together. But I was also crying because I remembered a Valentine's Day — when a helicopter dropped a rainfall of roses — that had come and gone," he lamented. "My marriage had died. And there was nothing I could do to bring it back."
Maybe part of R. Kelly's problems was expecting love to be like a Nicholas Sparks movie. Just because it worked for Miley Cyrus and Liam Hemsworth doesn't mean it works for everyone — it didn't even last between the film's stars, Gosling and McAdams.
Our advice, R.? Start watching action movies. You'll cheer right up.
Source: PopCrush

And now, for today's FAIL... And now for the winner of the "Rubbing it in" award....


see more epicfails
And today's WIN! Where can I find this chair?! That is freakin' awesome.

Source: cheezburger

Hey, WTF?!! Underwear that is supposed to filter your farts and keep them from smelling in public? *sing-songy voice* I know what my Mom is getting for Christmas!


see more epicfails

And that's all the time I have for today. Who in your family could benefit from the fart filter underwear? Until tomorrow then, there's something you should know...

A Japanese model who goes by the name of Serena Kozakura was sentenced to 14 months in prison for willful destruction of property on November 6 2008. She allegedly kicked a hole through the door and reentered her boyfriend's apartment following an argument with another woman she found there.
She appealed the sentence to the Tokyo High Court. During the appeal hearing, the man and another witness both testified to the woman's kicking and entering. But the hole measured 28.3 inches by 8.7 inches, which is way too small for Kozakura's famous 40 inch breasts to bust through.
In a country which is accustomed to a smaller built, Kozakura said after the ruling "I was always worried about being a little fat, but this time I was glad. It was definitely my breasts that won for me today."