Tantalizing Tuesday to you all, my little gingersnaps. Have you ever thought, "Self? I need complete darkness to sleep, but I hate the way sleep masks look." Well, look no further. I introduce to you... the "Face Bra". The manufacturers are saying is a "sexy, lacy number in the shape of a bra." Actually it just looks like a Gay Batman. By the way, my apologies to the Gay community AND Batman, because I actually don't think either of them would wear something as stupid-looking as this anyway.

Interone's 'Face Bra' Gains Support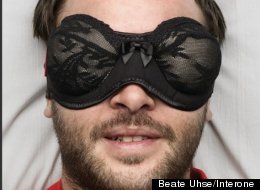 Ad agencies usually create advertising for their clients. Interone of Germany went one step further: It created advertising and a new product idea.
To generate buzz for lingerie maker Beate Uhse at a recent convention, Interone devised the Face Bra. It's a sexy, lacy number in the shape of a bra -- but it's a sleep mask.
Beate Uhse was so impressed that it may produce the Face Bra as a complement to its line of sex toys and naughty wear.
"When we saw the idea we knew this would be something nice to do," Beate Uhse spokeswoman Doreen Schink told The Huffington Post on Monday. "If you see the product, this can be a huge success."
Schink said the company is still in the "decision-making process." We say go for it. The last popular stab at a "face bra" was actually a bra to support the face. And it appeared in fiction. The secretary played by Jane Krakowski on "Ally McBeal" invented one to stop women's faces from jiggling when they jogged. It made her look like a cross between a mummy and Hannibal Lecter.
Interone's Face Bra was originally distributed to travelers on planes, trains and buses to this year's Salon De La Lingerie in Paris, and from there it gained momentum. The tagline on the packaging reads, "Sweet Dreams."
Now 40 winks can come with a wink.

Source: HuffingtonPost

In other news, the Octomom wants to shed her creepy persona. I'm sure her ************ video and her ****** photo shoots will help. Personally, I think I have a better chance of getting the Church of Scientology to stop clogging up my mailbox than she does of shedding her creepy persona. But best of luck to you Nadya, the mother of 6 on welfare who had in vitro fertilization to have 8 more kids.

(The Octomom story has been heavily edited in the hopes of getting past work p*rn filters which I am now currently on) Thank you, Octomom.
Octomom Nadya Suleman Wants to Shed Her Creepy Persona
Source: SexyBeast

Speaking of Scientology, Katie Holmes has managed to do what many people thought was impossible... she got herself and her daughter out of Scientology and all the divorce issues settled in less than two weeks after filing for divorce. According to several articles, the terms of the divorce that have been made public are that Katie gets physical custody of Suri. She will have her own Nanny and Bodyguard of Katie's choosing, and that Nanny and Bodyguard will be present every time Tom Cruise gets to visit Suri. Also, the agreement is that Suri will not have any exposure to Scientology or anything Scientology-related.
She must have had some pretty good info that Tom Cruise wanted to keep secret, as we all know Nicole Kidman's only way of getting out of Scientology was to leave her children behind and out of her life. In Katie's papers she did say their marriage was irretrievably broken 6 months earlier. Hmmm... John Travolta perhaps?
Tom Cruise & Katie Holmes Reach Divorce Settlement, She Keeps Suri.

Splash News
By Alexis Tereszcuk - Radar Entertainment Editor
Tom Cruise and Katie Holmes have reached a divorce settlement, and as RadarOnline.com exclusively reported first, she will have primary custody of their daughter Suri Cruise.
Katie will continue to live in New York City with Suri, 6, but will extend generous visitation rights to Tom.
Katie filed for divorce less than two weeks ago and moved into a new apartment in the tony Chelsea neighborhood and has been spotted almost daily with her daughter in Manhattan, while Tom finished filming Oblivion in Iceland and then returned to their home in Beverly Hills, where he spent his 50th birthday with his older children Isabella and Connor Cruise.
"We are committed to working together as parents to accomplish what is in our daughter Suri's best interests. We want to keep matters affecting our family private and express our respect for each other's commitment to each of our respective beliefs and support each other's roles as parents," a statement from Holmes and Cruise's reps said.
Source: RadarOnline

And now for today's FAIL... Custom Mermaid Swimming Suit Tails

I'm calling this a FAIL for two reasons. 1. To suggest that this is somehow a new trend is totally wrong. Weekie Watchie Springs in Florida has been doing this since 1947. (see pic)
#2. If you don't know how to swim like a mermaid, you're gonna drown in your brand new custom mermaid bathing suit. #MermaidDeathTrapSuit

Custom Made Mermaid Tails That You Can Swim In

on
Mermaid Tails: from left, Maleka Rostami, Julia Naumann, Allison Meyer, Megan Naumann and Lani Carbonel
Canada-based Monika Naumann of 3-Fins was inspired by her three daughters to design and create a line of swimmable Mermaid Tails. Her beautiful mono-finned tail creations are currently available to purchase in green, red, blue, orange and fuchsia-pink. Here's a short video of the tails in action! The Province recently ran a feature story on Naumann and talked with her about the custom made tails.
Untitled from Monika Naumann on Vimeo.
And for today's WIN! Turning something ugly into something er... less ugly.

How to Turn Plumber's Crack Into Cheeky Cleavage

on
photos by Markus Mueller
In 2011, Berlin ad agency Scholz & Friends worked with photographer Markus Mueller and art director Michael Johne to create these funny photos for their client, German handcraft company union Das Handwerk. These clever t-shirts were created specifically for the shoot and show how to easily turn plumber's crack into something more attractive.
The new handcraft is more attractive than you think.
image via Ads of the World
Source: Boing Boing
Hey, WTF?!! Hey lady, your maxi-pad is showing! I realize some women like to go commando. However, this is not advised if you are a maxi-pad wearer when Aunt Flo is visiting you.

see more Poorly Dressed

And that's all the time I have for today. I'm about to try on my custom Mermaid death-trap bathing suit. I'll meet you back here same time, same place tomorrow, that is unless I die in the swimming pool. Until tomorrow then...
Japanese sword makers are only allowed to make 24 swords a year!

The swords made by the Japanese are called Shinken, literally translated, it means real sword. The sword is "real" because it is an actual sharpened blade. Such a blade can be used for combat practice or for cutting.
A blade that is not "real' would be an iaito or mogito, which is used only for practice and is not sharpened. Currently, there are 250 swordsmiths certified by the Japanese Swordsmith Association.
According to Japanese law, these swordsmiths are only allowed to make 24 swords a year. These swordsmiths are highly skilled and each sword demands a large amount of time and effort to create. With all of these limitations, it's no surprise that a Shinken comes at a high cost.
At the lower end of cost, you might be able to get one for $6000. Since Shinken are so expensive they are often collected, rather than used. Antique Shinken swords are never used, because their value makes the idea of using them ridiculous. Instead, a martial arts expert might get a sword from China as sort of a knock-off Shinken that can actually be used.