What do you mean it's not Monday? You mean I drank too much wine and lay comfortably in Mr. G's arms on the couch Sunday evening instead of writing Monday's blog post? Apparently so. *sigh* Sorry 'bout that.

Treachery Tuesday to you all, my little gingersnaps. Let's move on to the news, shall we?
The man with the world's largest hee-haw had a bit of trouble getting through the TSA check-point at the San Francisco International Airport. This man, who's member is 9 inches long when it's just hanging around minding its own business, and 13.5 inches long when it's got other things on its mind, had his bulge examined when TSA agents became suspicious. He passed through the metal detector and the X-ray body scanner but still they didn't let him pass. One guard asked him if he had something in his pockets, to which he answered, "No". He says, (laughing) "Another guard stopped me and asked if I had some sort of growth." They then patted him down and put some powder on his pants, presumably to test for explosives. I'm sure sometimes it's explosive, but doubtful it's used for terrorist purposes. Oh yes, I just went there.

Jonah Falcon has been on talk shows and the subject on some documentaries but has turned down all multiple offers to do p*rn.
Oh, and yes he did make it to his flight on time and says next time he'll make it easier on the TSA agents. He'll wear bicycle pants from now on. O_o

Jonah Falcon, Man With World's Largest Hee-Haw (term changed by Ginger for the protection of the innocent), Frisked by TSA at California Airport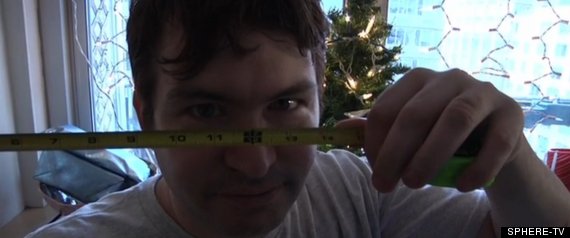 Turns out it's legal to have a weapon of mass conception at the airport.
Jonah Falcon was stopped and frisked by the TSA at the San Francisco International Airport on July 9 because of a bulging package hidden in his pants. But the 41-year-old New Yorker wasn't packing a dirty bomb, drugs or a Costco-sized tube of toothpaste. The New Yorker has the world's largest recorded p*nis.
In an exclusive interview with The Huffington Post, Falcon described his hard times with security guards after his extra carry-on became suspect.
"I had my 'stuff' strapped to the left. I wasn't erect at the time," said Falcon, whose penis is 9 inches flaccid, 13.5 inches erect. "One of the guards asked if my pockets were empty and I said, 'Yes.'"
Falcon said he knew that his interview was about to get a lot more personal when he was led through one of the X-ray body scanners and passed a metal detector.
"Another guard stopped me and asked me if I had some sort of growth," Falcon said, laughing.
Indeed he did have a growth.
By the age of 18, Falcon knew he had something special when his manhood reached a whopping 12 inches. His family jewel was hailed as the world's largest on record after an HBO documentary featured him in 1999. The Guinness Book of World Records does not record such feats, but Falcon did show his standout feature to Huffington Post executive editor Buck Wolf.
Falcon has been contacted by porn companies (though he's never accepted) and has been featured on just about every talkshow in the country.
As he passed through airport security, Falcon said a younger security guard felt threatened by his "very noticeable" package -- and interpreted it as a biological threat.
"I said, 'It's my dick,'" Falcon said. "He gave me a pat down but made sure to go around [my penis] with his hands. They even put some powder on my pants, probably a test for explosives. I found it amusing."
The screener gave up the extensive search without so much as a blush or a smile. Falcon made his flight back to New York on time.
But he learned something that day. The hardened traveler has a new game plan for airport security.
"I'm just gonna wear bike shorts from now on," Falcon said. "That way, they'll know. You'd think the San Francisco TSA would have had experience with hung guys before, but I guess not."
TSA officials at the San Francisco International Airport did not return calls for comment.
Source: HuffingtonPost

In other news, a woman is suing Just Bieber for $9 million by claiming screaming fans at his concert destroyed her hearing. In 2010 the woman took her daughter to the concert where she says she experienced such extensive damage to her ears that she now suffers from tinnitus and other hearing-related damage. She's suing Bieber, his record label, the concert promoter, and the arena.

Did the Biebster force her to attend his concert? I think Justin Bieber should counter-sue her for being stupid.

Bieber Sued for $9.23 Million By Woman Who Claims Screaming Fans Destroyed her Hearing.


Justin Bieber
's live show is painful to listen to ... so says an Oregon woman who claims she was hit with a "sound blast" at one of his concerts that left her with permanent ear damage.
According to the suit, Stacey Wilson Betts took her daughter to see Bieber's show in Portland, Oregon on July 14, 2010.
Betts claims it was incredibly loud inside the arena thanks to Justin's shrieking fans ... but Bieber made it MUCH MUCH WORSE when he climbed into a "heart-shaped aluminum/steel gondola" which was pulled out into the crowd (below).
In the suit, Betts claims Bieber "created a wave like effect of screaming by pointing into various sections of the arena. Then enticed the crowd into a frenzy of screams by continuously waving his arms in a quick and upward motion."
Betts says the gondola acted as a "sound conductor creating a sound blast that permanently damaged both of my ears."
As a result, Betts claims she now suffers from tinnitus ... which causes a constant pulsing, whooshing shound that makes it hard to sleep. She also complains of other hearing-related damage.
She's suing Bieber -- along with Bieb's record label, the concert promoter and the arena -- and demanding $9.23 million in damages.
In celebrity news, Chris Hemsworth was out and about, holding his newborn baby girl. Is there anything cuter than a big, hunky man holding a tiny baby girl? Yes. A big, hunky man holding a tiny baby kitten. Or a big, hunky man holding a tiny bunny.

Chris Hemsworth & Elsa Pataky: Shopping with Baby India!
Chris Hemsworth holds his adorable baby girl India tight as he walks back to his car on Friday (July 13) in Santa Monica, Calif.
The 28-year-old Aussie actor was joined by his wife Elsa Pataky, 35, as they enjoyed an afternoon of shopping.
After shopping, Chris made a stop at a local storage unit.
The day before, the happy family was spotted having lunch together at Kafe K.
Whether you love Gotye's "Somebody I used to know" song or you just can't stand to hear it one more time, you've gotta see this brilliant short that was made about it!

Source: LaughingSquid

And now, for today's FAIL... There might be something lost in translation, but suddenly these disposable panties intrigue me.


see more epicfails
And today's WIN!! They have a point. Especially if it's chocolate chip pancakes.


see more epicfails
Hey, WTF?! Something tells me I won't find the kind of unicorn I'm looking for behind that door.


see more WTF Pictures and WTF videos by Picture Is Unrelated
And that's all the time I have for today. If you could give a baby a ridiculous name, what would it be? And sorry, Taco Monster is taken.
There is a Dutch medical professional named Taco Monster.

He's been awarded the Name of the Year award, defeating the likes of Delorean Blow and Vernon Lee Bad Marriage Jr. (why didn't Senior get a nomination too). Now, you'd think that his name means something else in the Netherlands, but no, you'll still get a few eyebrows if you sign your name as Taco Monster on a grocery receipt or phone bill.
So how can this phenomenon be avoided in the future; how can we avoid naming our children something that will get them on a story on OMG facts. How can we lower the number of not only blatantly weird names like Taco Monster but also more subtle ones like Harry Dong?
Well, I could give you the typical advice; test the name against every single pronunciation, accent, and insult possible. But honestly, it doesn't matter. People may giggle at first, but when Dr.Taco Monster's name is under his paper's title; "The impact of antihypertensive drug groups on urinary albumin excretion in a non-diabetic population," they take him seriously. A taco by any other name is just as delicious.