Meandering Monday to you all, my little gingersnaps! I'm baaaaaack. Homeschool is out and I'm in a considerably better mood, despite not yet sorting out my taxes. On a related note, I wonder if they let you blog from prison. Thank you for all three of you who let me know you desperately missed Gingersnaps! The rest of you aren't allowed to read anymore. Go on, go on... git! Okay, just kidding. You know I love my lurkers too. Now on to the news!
In Ohio, a cleaning lady has been breaking into homes, cleaning them and then leaving them a bill with her name, address and phone number. One couple called her because they thought she cleaned her house accidentally. She informed them that no... she does this all the time. All I can say is she's lucky she wasn't doing this in Texas, Louisiana or Florida. And maybe Arkansas. Cause she would've gotten herself shot. Come to think of it, she might have had that happen if she broke into my house as well. *wiggles eyebrows*
Last week, the proprietor of Sue Warren Cleaning service tidied up Sherry Bush's home in Westlake, Ohio and left a bill for $75. Thing is, Bush never hired her. Warren broke into the home, cleaned it, and left. Interesting, albeit illegal, approach to marketing. From WKYC: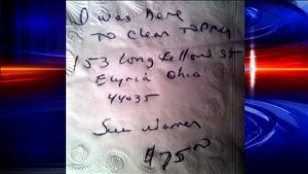 When the Bushes read (the bill), they thought Sue Warren just cleaned the wrong house, so they gave her a call.
"I think our jaws just dropped to the ground," Bush said. "I said, what happened, did you get the wrong house? She said, 'no, I do this all the time.' I said, what do you mean? She said, 'I just stop and clean your house.'"
It isn't clear if Sue Warren does this all the time, but she did do it last month in Beachwood, and was charged with criminal trespassing.
Now on to stupid celebrity news...
husband stealer
LeAnn Rimes attended the opening of LA Fitness Club and decided to go take a jog on a treadmill in HEELS. Apparently cause she's stupid. She's lucky she didn't bust her butt. I would've paid good money to see it.
Splash News
By Radar Staff
LeAnn Rimes
-- as only LeAnn can -- jumped on a treadmill in her skinny jeans and sky-high stilettos Saturday, and
RadarOnline.com
has the photos.
The country singer and her husband,
Eddie Cibrian
considered were attending the opening of the first Signature LA Fitness Club, and LeAnn couldn't help but showing off.

PHOTOS: LeAnn Rimes Takes Her Stilettos To The Gym
She jumped on a treadmill and actually jogged.
Afterwards, Rimes tweeted (of course). "Had the best time at the opening of the new @LAFitness in our neighborhood Fabulous!!!!"
On a similar note, Huffington Post says pregnant Tori Spelling is rocking the Monokini. Seriously, Huffington Post? She's rocking it? Cause I wish I hadn't seen this picture, and I can't be the only one. No one needs to see this. Is it too hard to wear a little coverall over your suit? Or at least a sarong around your waist? Or a Mumu?
Tori Spelling Talks Surprise Pregnancy, Rocks Monokini (PHOTO)
Hey there, hot mama! Tori Spelling is pregnant with her fourth child and she isn't shy about showing off her growing baby bump. The actress and reality star was spotted rocking a sexy black monokini in LA with her husband, Dean McDermott, and youngest child, Hattie, 7 months, over the holiday weekend.
Spelling announced her pregnancy in March
, surprising everyone -- including herself -- with news that she was expecting again so soon after giving birth in October.
"Dean, Liam, Stella, Hattie, and I are beyond thrilled to announce that another little McDermott is on the way! We feel truly blessed that another angel has found us," she wrote on her personal website, announcing her baby news.
Spelling told "Access Hollywood" that
the news she was expecting came as a shock
, and she only found out she was pregnant again after going to the emergency room to be treated for a migraine. The nurses requested she take a pregnancy test before being treated, and that's when both she and McDermott found out they were adding another little one to their family.
"Dean and I kind of sat there in shock for a while and then we said, 'Well, we wanted four… This is when our miracle wanted to come… so we'll take it,'"
Spelling told "Access Hollywood."
Check out Tori's summertime look below: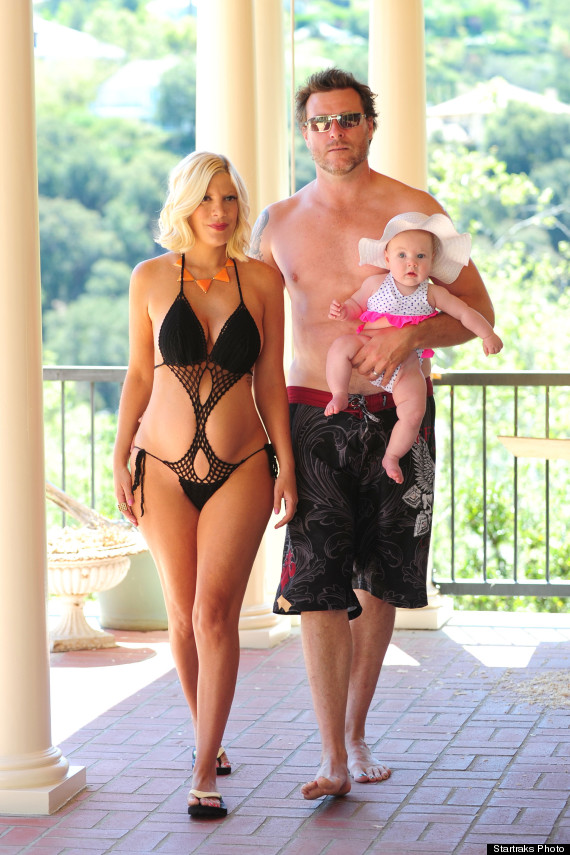 And now, for one of the best Amazon product reviews I've ever read. It accompanies this lovely wolf shirt. If this doesn't make you want to go out and buy it... well, don't take my word for it... read it yourself!
Most Helpful Customer Reviews
27,865 of 28,117 people found the following review helpful
"This item has wolves on it which makes it intrinsically sweet and worth 5 stars by itself, but once I tried it on, that's when the magic happened. After checking to ensure that the shirt would properly cover my girth, I walked from my trailer to Wal-mart with the shirt on and was immediately approached by women. The women knew from the wolves on my shirt that I, like a wolf, am a mysterious loner who knows how to 'howl at the moon' from time to time (if you catch my drift!). The women that approached me wanted to know if I would be their boyfriend and/or give them money for something they called mehth. I told them no, because they didn't have enough teeth, and frankly a man with a wolf-shirt shouldn't settle for the first thing that comes to him.

I arrived at Wal-mart, mounted my courtesy-scooter (walking is such a drag!) sitting side saddle so that my wolves would show. While I was browsing tube socks, I could hear aroused asthmatic breathing behind me. I turned around to see a slightly sweaty dream in sweatpants and flip-flops standing there. She told me she liked the wolves on my shirt, I told her I wanted to howl at her moon. She offered me a swig from her mountain dew, and I drove my scooter, with her shuffling along side out the door and into the rest of our lives. Thank you wolf shirt.

Pros: Fits my girthy frame, has wolves on it, attracts women
Cons: Only 3 wolves (could probably use a few more on the 'guns'), cannot see wolves when sitting with arms crossed, wolves would have been better if they glowed in the dark"
And now, for today's FAIL! Really, a $200 fine on top of sudden death? That's just too high of a price to pay.
see more
epicfails
And today's WIN.... This is pretty awesome. If I were driving a truck instead of a gas-guzzling SUV, I would totally use this decal. Probably. Maybe. Anyway, it's pretty freaking cool.
see more
WIN - Epic Win Photos and Videos
Hey, WTF?!! Uh, a group where straight men get together and pretend to be gay? I think they should rename this group "In The Closet". Or perhaps meet in the closet instead of Starbucks.
see more
epicfails
And that's all the time I have for today. I'll meet you back here same time, same place tomorrow. Until then, here's something I think everyone should know...
Having your udder pulled constantly can get a little bit stressful. Sometimes all you need is some nice, classical music to help you relax and "get the juices flowing." So when farmers play classical or soft music in the cowshed, they receive about 1 extra pint of milk from their cows.
Some of the most popular hits are Beethoven's Pastoral Symphony and Simon and Garfunkel's Bridge Over a Troubled Water. Some farmers have even tried using this yield-increasing method on chickens. Supporting this practice is a study carried out by the LCAH Dairies in Linconshire and Bishop Burton Agriculture College in Humberside.
Researchers found that a cow's milk yield rose by 3% a day when slow music, rather than fast or no music was playing. They came to the conclusion that in much the same way that music helps humans relax, it also helps animals relax. The group is now seeking further funding to continue their research on animal musical therapy.
(Source)