Forgetful Friday to you all, my little gingersnaps! In the news, a shoplifting couple in Spain fled the bookstore they were shoplifting from and left their baby in it's carrier behind. The couple returned to the store to try to steal their baby back but the police were waiting for them and arrested them.
People. Come on. If you're going to shoplift with your kids, put them in a sling. That way when you flee the store, your child is attached to you. Plus, you can probably fit some stolen items in the sling next to your baby. What?
Shoplifters Leave Baby Behind At Scene Of Crime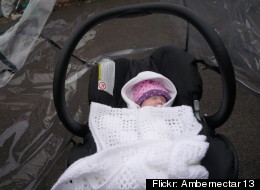 That old line "a thief always returns to the scene of the crime" was true for a couple in Badalona, Spain.
But they had to: They left their baby behind at the bookshop they were shopping.
The couple was caught putting items into bags and slipping things into clothing, and when they realized the jig was up, they made a mad dash for the door -- leaving the little nipper,
according to LifeInCatalonia.com.
The shopkeeper called local police who left the child with a caretaker. Meanwhile, when the couple returned to the bookstore hoping to steal their baby back, the cops were waiting and promptly arested them,
ThinkSpain reported.
As weird as it sounds, many other criminal parents have involved their kids in the "family business" recently.
Earlier this week, a pregnant woman accused of shoplifting hit three employees as she fled a Walmart store in Corpus Christi, Texas,
according to KRIS-TV.
Investigators say the woman was with a small child when she was stopped by an employee before leaving the store.
She then escaped to the parking lot, got behind the wheel of her car and backed up into three employees, who police say were trying to convince the woman to come back inside the store.
Last month, a suspected shoplifter who allegedly brandished a knife while pushing her baby in a stroller was arrested in El Cerrito.
Employees told police they attempted to detain Booshondia Daniel, 29, after she tried to leave the store without paying for merchandise,
the San Jose Mercury-News reported.
Daniel then allegedly pulled out a knife and began waving it in a threatening manner before fleeing the scene while pushing the baby inthe stroller.
In celebrity news, Charlie Sheen is admitting to us that the whole time he claimed to be "winning", he was actually losing. He admits he was in denial and claims that his love for Vodka had something to do with it.
Really? Charlie, I'm so let down. All this time I thought you were winning, and had tiger's blood. *sigh* Next you're going to tell me Unicorns and Fairies don't exist.
Charlie Sheen Admits to Rolling Stone He Regrets "Winning"
It looks like even
Charlie Sheen
realizes he wasn't in such a "winning" position last year!
The former star of CBS sitcom
Two and a Half Men
has a new show coming out on FX appropriately titled
Anger Management
, but Charlie admits the road in between those shows was more than bumpy. In an interview with
Rolling Stone
that hits stands today, the Warlock opened up about his crazy antics last year and defended his hard-partying ways.
Speaking on his highly public meltdown after quitting Two and a Half Men last year, Charlie admitted the Tiger Blood may have gotten to his head when he gave interviews about how great life was. "Clearly, a guy gets fired, his relationships are in the toilet, he's off on some fu***** tour, there's nothing 'winning' about any of that," he said. "I mean, how does a guy who's obviously quicksanded, how does he consider any of it a victory? I was in total denial."
In other celebrity news, Chris Hemsworth (AKA Thor) tell us that he used to clean breast pumps for a living. At the risk of TMI, I pumped sometimes while I was breastfeeding my oldest son. I didn't even want to clean my OWN breast pump. Huge Asgardian props to Mr. Hemsworth for cleaning other people's breast pumps. Cause I wouldn't do that.
Chris Hemsworth Reveals He Used To Clean Breast Pumps For A Living
Before he hit it big in Hollywood, "Snow White and the Huntsman" star Chris Hemsworth had to pay the bills and the Australian actor revealed to
"The Tonight Show" host Jay Leno that he's had some strange gigs in his past
.
"I did [lots of odd jobs] back in Australia before I came over to [Los Angeles] -- a lot of construction work, building sites and horticultural work," the 28-year-old told Leno, who also wanted to know the worst job he's ever had.
"I wouldn't say it was the worst, but it was an interesting job. I worked for Fisher and Parker, which is a home-ware company, and I had to clean, and assemble, and repair breast pumps that were rented to pharmacies," he told Leno, stopping to make sure the host knew what he was talking about.
"I was like 15 and the machine would come in covered in dried milk, and I'd be there with a toothbrush, scrubbing 'em up and cleaning," Hemsworth recalled. "And then the fan belt would break, so I'd pull it apart and repair it and check if they were working again."
And now, what I think we all need in this world... a Mister Rogers remix. Yep, PBS has teamed up with a master remixer to bring us our favorite icons in remix form. I'm still waiting for the Bob Ross remix.
And now, for today's FAIL... please Lord, never let this hair trend make it to California. Thank you, Amen.
see more
epicfails
And today's WIN! Hey, I mean, at least the guy is being honest. I think.
see more
WIN - Epic Win Photos and Videos
Hey, WTF?! I'm not really sure who's side I'm on. Is it reasonable to spray air freshener at your husband if he's farted in bed? I would say it depends on the fart.
see more
epicfails
And that's all the time I have for today. Have yourselves a razzle dazzle weekend. I'll meet you back here on Monday. Until then...
Officers were sent to 13 houses recently in Charlton, Massachusetts to give notice that they had overdue books that needed to be paid for. At one home, there was a five year old girl who heard the conversation between her mother and the officer.
She began crying, because she thought the police were going to arrest her. The local librarian called the police for assistance in recovering overdue charges and the books. Since involving the police, the librarian has gotten emails from across the country harassing her and calling her names.
The people that were visited had books overdue for over a year. The librarian simply needed help in enforcing the library's policies on not returning books. Libraries across the country lose thousands of dollars worth of books and other items yearly. Taxpayers fund the libraries and the police.
It isn't terribly out of line for the librarian to try and seek help from the police to get the books back. It is a form of theft if they are never returned.
(Source)