Wiggly Wednesday to you all, my little gingersnaps. Happy Hump Day. Feel free to celebrate by humping your co-workers. Tell them I said it's okay.

In the news, while under the influence of synthetic marijuana, a man killed and ate a dog. Apparently this drug turns you into a Korean.

Michael Daniel Accused Of Killing, Eating Dog On K-2-Fueled Rampage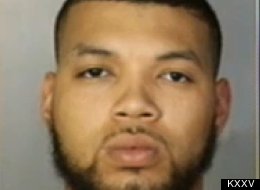 A man high on synthetic marijuana killed and ate a 30- to 40-pound dog, according to police.
Michael Daniel of Waco, Texas, was charged on Monday for an incident earlier this month in which he allegedly got down "on his hands and knees and chased a neighbor while barking and growling like a dog," according to KWTZ.
Daniel then took a black dog onto a house's front porch, beat and strangled the canine and then "began to bite into the dog, ripping pieces of flesh away," Waco Police Sgt. Patrick Swanton told KWTZ.
Daniel allegedly told neighbors he was high on synthetic marijuana, sometimes called K-2.
When officers arrived, Daniel had "blood and fur around his mouth," Swanton told KXXV.
Daniel is charged with cruelty to a non-livestock animal.
The story comes days after Michigan Governor Rick Snyder signed bills banning the sale of synthetic marijuana. The drug was linked to several tragedies around the state, including a Bloomfield Township teen's reported fatal overdose.
More than 40 other states have passed similar bills.
Daniel's alleged attack also comes in the wake of a series of cannibalistic attacks, mostly on the East Coast, some of which have been linked to another drug commonly called "bath salts."
Source: huffingtonpost

In celebrity news, Joe Manganiello (AKA Alcide) was on The Soup last week. If you missed his performance, you have GOT to watch it below. Not only was he the nicest guy ever when I asked to take a picture with him, but apparently he has an awesome sense of humor. Hunky AND hilarious? That's too much. TOO MUCH. Check it out for yourself!
Joe Manganiello: 'Soup' Stop for 'Magic Mike'!
Joe Manganiello keeps it casual as he arrives at LAX Airport to catch a flight on Monday (June 25) in Los Angeles.
The 35-year-old True Blood actor kept a low profile behind a pair of dark sunglasses.
PHOTOS: Check out the latest pics of Joe Manganiello
Last week, Joe made an appearance on The Soup to promote his movie Magic Mike. The stripper flick, which also stars Channing Tatum, Alex Pettyfer, and Matthew McConaughey, hits theaters across the country June 29. Check out the video below!
Source: JustJared

In other news, Tori Spelling would like us to know she dresses her pet chicken in vintage outfits. Okay, I have been known to dress my cats and bunnies in outfits, but PEOPLE... chickens (like other birds) have the inability to hold their poo. That's right, whether you're wearing a black dress and holding your fluffy chicken, or putting them in a vintage outfit, they will poo all over it without warning.

Tori says the staff at her local Michael's Craft store know her pet chicken by name. Well of course they do! What other pet chickens do they see in the store? You can bet your asterisks if I walked in a Michael's store with a chicken, they would ask me to leave. Why? Because I'm not a spoiled brat celebrity, that's why. And what happens when that little chicky has to poo? And you thought that was a glue spillage in Aisle 5. *shakes head no*
The family also has a pet goat, and a pet pig who they say sleeps in bed with Tori and her husband. I've heard that pigs make good pets and can be housebroken, so it's not as crazy as carrying around a chicken with you when you shop.
Did I tell you about the time I went out to dinner with my family with a snake in my Coach purse? #truestory

Tori Spelling: I Dress My Pet Chicken in Vintage Outfits
Tori Spelling has a passion for fashion -- and so does her pet chicken!
Expecting her fourth child with husband Dean McDermott, the actress and reality star, 39, is no stranger to donning chic vintage looks, and Spelling tells Lucky magazine she's dressing one of her family members the same way. No, not 4-year-old daughter, Stella -- her pet chicken, Coco!
"I call her a pocket chicken because she loves to be held and go places with me. They know her by name at our local Michael's craft store," Spelling, who will host TLC's new series, Craft Wars, starting Tuesday, tells Lucky's Erica Domesek, who also appears on the show.
A silkie bantam chicken, Coco has quite the wardrobe thanks to Spelling and her crafting skills. "I make her outfits to mimic my vintage dresses. She also has little caplets!" says Beverly Hills, 90210 alum Spelling. "I turn vintage brooches into fascinators for her. Right now I'm knitting her a chicken poncho for those cool summer nights."
Coco isn't the only animal roaming around Spelling's home along with McDermott and kids Stella, Liam, 5, and Hattie, 8 months. The family also has a goat -- aptly named Totes McGoat and a pet pig named Hank, who Spelling told E! News sleeps in bed with her and McDermott.
Source: UsMagazine

And now, for today's (parenting) FAIL...

see more epicfails
And today's (graffiti) WIN!

see more WIN - Epic Win Photos and Videos

Hey, WTF?!! Um... uh... it's not the size that matters, it's... oh who am I kidding? WTF is she doing?

Source:
wtfjapanseriously
And that's all the time I have for today. Just say no to synthetic pot, and until tomorrow...

The Cowardly Lion costume, auctioned at 3 million dollars last year, has been preserved for decades in the Los Angeles County Museum of Art. The original costume had a mask included that was modeled to Bert Lahr's face (Lahr played the lion).
Unfortunately, the mask didn't stand the test of time, and had begun to wear down. Bert Lahr's son Herbert Lahr volunteered to have a mask molded of his face as replacement, for the closest possible resemblance. The crazy thing is that the mask almost never made it to the place where it is today.
After filming was done, it was thrown out in the trash and was found by a trash collector. The sad part, many felt, was that it was being sold at all. Several other articles from the movie like the ruby slippers and Tin Man suit have been preserved in museums and never sold.
At the same auction where it was sold was Bela Lugosi's cape from the original Dracula, the DeLorean from Back to the Future III, Marilyn Monroe's wedding ring from her marriage to Joe DiMaggio, and a painting of Marilyn by Earl Moran.