Woozy Wednesday to you all, my little gingersnaps. So who wants to watch some Octomom Porn?
*crickets*
Yes, that's right... Octomom has decided to make money via the Adult Film Industry after filing for Bankrupcy and having $1 million in debt. She has previously vowed to not go into the Porn Industry but has changed her mind. I say, why not? Might as well start saving the money for her kids' future therapy bills anyway. *facepalm*
'Octomom' Files for Bankruptcy; Nadya Suleman Turns to Adult Film Industry SANTA ANA, Calif. -- "Octomom" Nadya Suleman filed for bankruptcy Monday, saying in a court filing that she has as much as $1 million in debt.
"I have had to make some very difficult decisions this year, and filing Chapter 7 was one of them," Suleman said.
The La Habra mother of 14 reports up to $50,000 in assets in federal court filings, which means she owes more than 20 times her net worth.
Suleman is filing Chapter 7 bankruptcy, which means a court-appointed trustee would liquidate her assets to pay off creditors before she is discharged from most of her debts.
Among others, Suleman owes money to her father, the city's water department, DirecTV and Whittier Christian School, where at least some of her children are students.
Suleman also owes more than $30,000 in rent payments on her four-bedroom house.
The home's owner, Amer Haddadin, says his own credit has suffered as he allowed the home to go into foreclosure proceedings by not making the mortgage payments.
A foreclosure auction that was scheduled for Monday has been postponed for a week.
Suleman was in financial dire straits before the January 2009 birth of her octuplets brought her notoriety.
In 2009, Suleman declined a million-dollar offer to appear in pornography -- but now she's changed her mind.
TMZ reported
that Suleman signed up to make a solo masturbation video for an adult entertainment company.
Suleman reportedly "doesn't consider a masturbation video porn, because it's a solo mission."
She has vowed in the past never to get into pornography, but she has made $10,000 for posing topless.
All Suleman's children were conceived through in vitro fertility treatments. Her octuplets are the world's longest-surviving set.
In celebrity news, Charlize Theron has said she loves Kristen Stewart so much she "would jump off a building for that girl". Would that be a 1 story building? A 2 story building? With a net below?
But what I really want to know is, would she jump of the cliffs of La Push for Kristen Stewart?
Charlize Theron 'Would Jump Off a Building' for Kristen Stewart
Check out this new poster for
Snow White and the Huntsman
featuring
Charlize Theron
as the evil Queen Ravenna!
The 36-year-old actress and co-star
Kristen Stewart
recently appeared at
CinemaCon 2012
to promote the movie, out June 1, which co-stars
Chris Hemsworth
.
"I really, I really, really love that girl. I love that girl, like, I would jump off a building for that girl,"
Charlize
told
Access Hollywood
about
Kristen
. "She's amazing, she's amazing. She's the real deal … [and] she gives really good back rubs."
"[
Kristen
] is the kind of actor that I like to be around because there's nothing she'd really stop at in order to do the job,"
Charlize
added. "She's got a tremendous amount of talent and, you know, I think you can have talent, but if you don't have tenacity and moxy … She's bad ass."
In other celebrity news, Jessica Simpson has finally given birth after a 14 month pregnancy. She named her daughter Maxwell Drew Johnson. *shrugs* Check out Jessica's $4,000/day Maternity Suite. So, this is how the other half gives birth. I might not have been tempted to throw my firstborn out the hospital window if I had a room like that to recover in.
And yes I'm glad I didn't actually throw him out of the hospital room window. Because you know, I had just had a C-section and couldn't actually get out of the bed.
Jessica Simpson
's new baby girl arrived in the lap of luxury ... 'cause the hospital she was born in offers the crème de la crème of birthing suites -- if you open your wallet wider than a birthing uterus.
We're told Cedars-Sinai offers several VIP suites for pocket heavy new moms, but it's NOT the $500k mentioned in some reports.
The BEST suite you can snag -- a 3-bdrm, 2-bath private pad within the hospital -- will run $3,784 a day ... more than what
Beyonce spent
-- $3,200 a night -- on her luxury, 4 bedroom birthing suite.
All that green goes a long way ... Jessica's suite boasts flat screen TV's, chilled juices on ice, muffin baskets, manis & pedis for wiped out new moms and a private dinner for two post-labor.
Simpson just delivered baby girl --
Maxwell Drew Johnson
-- this AM, weighing in at 9 pounds, 13 ounces.
And now, for today's FAIL... I need to look at this picture every time I'm having a bad day. Instant giggles, guaranteed.
see more
epicfails
And now, for today's WIN! Does anyone else want to take a swan dive into this cupcake mass? No? Just me?
see more
epicfails
Hey, WTF?!! I'm dying to know what Bernard P. Hopkins did. (not literally though)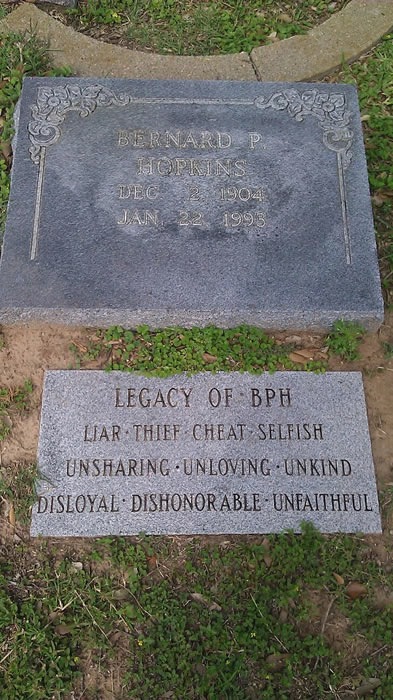 And that's all the time I have for today... meet me back here same time, same place tomorrow. Until then...
Before you go thinking that Dracula was from Kentucky, remember the difference between a Kentucky accent and Romanian. This American Transylvania was started by a man named Richard Henderson who owned the North Carolina based Transylvania Company.
The company reached an agreement with the native Cherokee in Kentucky to buy the land in the "Treaty of Sycamore Shoals." The area was half the size of present-day Kentucky. The men hoped to establish their own British proprietary colony, unfortunately when making the deal with the Cherokee, the men of the Transylvania Company didn't realize that they would be encroaching on territory claimed by both Virginia and North Carolina.
They weren't just encroaching, but actually violating Virginia, North Carolina and British laws. They didn't realize this and settled anyway. Henderson tried to get the colony officially recognized, but was denied and the colony dissolved. As compensation, however, they were given about 12 square miles in the area below the Ohio River.
(Source)