Therapeutic Thursday to you all, my little gingersnaps. How about some personal lubricant that tastes like Bourbon? I'm sorry, you're on your own. We're not reviewing that over at
Mommy Hates Chemicals
. I doubt it's even organic. *wink*
Whiskey Lube: Epic Meal Time Launches Bourbon-Flavored Personal Lubricant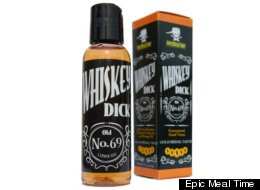 You probably know of Epic Meal Time thanks to the, well, epic YouTube videos where thousands upon thousands of calories are consumed in one sitting. It can be painful to watch, yet for some reason, you manage to get through the whole clip. It is gluttonous, disgusting and entirely unnecessary.
The guys behind Epic Meal Time have now started yet another unneccessary business venture -- whiskey lube.
That's right folks, there's now a personal lubricant containing whiskey that was aged for four years in hard oak casks. According to press materials, it is the "gold standard of booze-flavored personal lubricants." We're not exactly sure how competitive the booze-flavored personal lubricant category is, but kudos to the Epic Meal Time team for finding a product that grosses us out more than their web series.
It's available now, if you're interested.

In celebrity news, Billy Bob Thornton wants us all to know that his marriage to Angelina Jolie failed because he didn't think he was good enough to be married to her and he was too insecure to handle her becoming more famous than him. For once I agree with you Billy. You aren't good enough to be married to Angelina Jolie. She's totally my girl crush, which Spank says doesn't count because Angelina makes even 100% hetero girls crush... which is exactly why she's my girl crush. I never win this argument with Spank. You can't out argue a Sicilian.

I bet you haven't seen a cat video like this before... unless you've actually seen this video before. And in that case... never mind.


In other celebrity news, a 4th man has come forward accusing John Travolta of groping him. While I'm not at liberty to share any inside information I may have learned while married to someone who works in the movie industry, I can assure you I'm not surprised at all that men are starting to come forward. I suspect there are a great many more men who are keeping silent. Hey did you know you're not allowed to be gay and be a Scientologist?

WENN
By Jen Heger
-
Radar Assistant Managing Editor
A new man has come forward accusing
John Travolta
of sexual misconduct
,
RadarOnline.com
is exclusively reporting.
The new accuser, making a total of four to date, is a gym employee who accuses the
Grease
star of groping and fondling him against his will.
PHOTOS: Top Celebrity Sex Scandals
"As a result of the published lies about my client we expect some 'John Does' to come out of the woodwork and assert false claims,"
Marty Singer
tells
RadarOnline.com
, adding that he has not yet been contacted by an attorney representing the new accuser.
The previous three men comprise of John Doe #1, a masseur who has recently hired
Gloria Allred
to represent him after being dropped
by his previous attorney
; an Atlanta based masseur, who is being represented by
Okorie Okorocha
and Chilean-born former cruise line employee,
Fabian Zanzi
.
PHOTOS: Sexy Sex Tape Celebs
The gym employee/personal trainer claims he would open the gym for Travolta when he was on location for a film shoot, after hours. "The gym was opened as a courtesy to John Travolta so that he could avoid the public yet maintain his fitness in this physically challenging role that he was doing at the time. The gym employee says that John Travolta groped and fondled him against his will," a source close to the situation tells
RadarOnline.com
.
Travolta's powerhouse attorney, Marty Singer
has vehemently denied
the allegations.
PHOTOS: Indecent Exposure! Stars Bring Little Too Much To Beach
Travolta has been married to actress
Kelly Preston
since 1991. The couple's oldest child,
Jett
, died in 2009. The couple have two other children, daughter,
Ella Bleu
, and their toddler son,
Benjamin
, born in 2010.
And now, for today's (hydrating) FAIL... Does that cow even belong to the that guy? Probably not, if he's taking a break from riding his bike, in which case I'm gonna say it's RUDE to milk another guy's cow without permission. Plus raw milk? If your body isn't used to drinking it, you're gonna be siiiiiiick!


see more epicfails


And today's (kitteh) WIN! I hope they named that kitty "Kiss".

see more epicfails

Hey, WTF?!! Robin needs to stop shopping in the Junior department. I think I was just scarred for life. That can't be comfortable.

see more Poorly Dressed




And that's all the time I have for today. I'll meet you back here tomorrow, same time same place. Until then, here's something important you should know...


According to psychologist Stanley Coren, lefties live less long for a variety of reasons. Lefties tend to have a lower immunity to disease, as well as a higher accident rate, Coren says.
A survey taken of a thousand recently deceased claimed that the average left handed person died nine years sooner than the right handed counterpart. While the average age of death for righties was 75, the average age of death for lefties was apparently 66.
Many were quick to question this, because in other similar experiments there was either a much smaller difference in the age of death or no notable difference at all. In addition, nine years is a larger age gap than even the gap between smokers' and non-smokers' projected lifespans.
A study of right and left handed cricket players showed only a two year gap, while a study of right and left handed baseball players showed only an eight month gap. Those who dispute the nine-year gap argue that if it were so, life insurance companies would have caught on much sooner and would be slower to insure lefties.
A 1992 article in the Atlantic notes that lefties have higher frequencies of depression, substance abuse, bed wetting, suicide and attempted suicide, low birth weight, sleeping disorders, and autoimmune diseases. This is argued as an explanation for why they live shorter lifespans.
Yet another explanation is that there's simply a generational gap between lefties and righties. That is, that some of the older generation of lefties was forced to become right-handed. It wasn't until later generations that people were free to be left- or right-handed.
(Source)



Hmmm.... my mom is 66 and a lefty. If she makes it to her next birthday I should throw her a "Congratulations-for-beating-the-odds" party!