Womanish Wednesday to you all, my little gingersnaps! How is your Wednesday treating you? If you weren't stabbed to death over a cigarette, then I'd say your day is better than Yolanda's fiance Ricardo. Yep, that's right, he wouldn't give her a cigarette so she stabbed him to death. I don't smoke but even I know never to get in the way of a smoker and their cigarette. You're just playing with fire. Literally.
Yolanda Lenette Stills Killed Fiance Over Cigarette, Florida Cops Say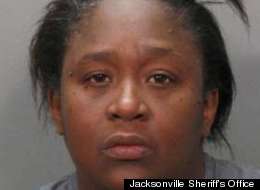 A Florida woman is under fire this week after she allegedly stabbed her fiance dead because he wouldn't give her a cigarette.
Yolanda Stills, 43, was arrested Saturday morning in connection to the stabbing death of her 56-year-old fiance, Ricardo McMillian,
according to WJXT.
Stills allegedly went on a rampage when her beau wouldn't hand over a cancer stick.
"She wanted a cigarette from him, and evidently he wouldn't give her one, so she went and retrieved a 10-inch butcher knife and stabbed him," Lt. Rob Schoonover of the Jacksonville Sheriff's Office told the station.
McMillian was found in the front yard of his apartment with several stab wounds. He was taken to the hospital where he died.
Stills was charged with murder and is being held at the Duval County Jail without bail.
Cops told the station that Stills and McMillian had been living together for months, and neighbors said nothing about them was unusual.
Stills, on the other hand, is used to visits from the police. She's reportedly been arrested 34 times and has faced several charges, including armed and aggravated assault, and most recently a protection order violation, the
Florida Times-Union reported.
She spent 42 days in jail for that charge, and was released in January.
You know how everyone who visits the leaning tower of Pisa holds their hands up so someone can take a picture of them and make it look like they're holding up the tower? So original. Check out this genius photobomber who decided to high five everyone who had their hands up for a picture. Hilarious!
In celebrity news, the actresses of "What to Expect When You're Expecting" set the record straight to say there were no feuds and they all got along. Here they are at the Premiere. All of them (except J.Lo and Cameron Diaz) attended the After Party. You seriously need to watch this movie. It is SO funny. Elizabeth Banks's character was my favorite. She cracked me up the whole time.
"What to Expect When You're Expecting" -- Cast Addresses Feud Rumors!
Here's something you probably wouldn't expect from the cast of
"What to Expect When You're Expecting"
: They all get along!
The fashionista-packed cast hit the red carpet for the L.A. premiere last night, where
Jennifer Lopez
posed alongside boyfriend
Casper Smart
and co-stars
Cameron Diaz
,
Elizabeth Banks
,
Brooklyn Decker
and
Anna Kendrick
.
While there have been rumors that the women had some diva behavior behind-the scenes, J.Lo and Cameron set the record straight.
"They made (rumors) up about us on this movie," Diaz tells
Ellen DeGeneres
in an interview airing today. "The fact that we wouldn't talk to each other and there were all these cat fights."
"I was like, I haven't even seen her yet…give us a chance to get in the room," added Lopez.
"It's always like that. They want women to be cat fighting," Diaz continues. "We live in such a misogynistic, chauvinistic, especially the media itself.. Always spinning woman against one another."
Of course, the movie isn't just about the women -- there are also some pretty hot guys in the cast too!
Chace Crawford
,
Matthew Morrison
,
Rodrigo Santoro
,
Joe Manganiello
and more also posed it up on the red carpet for the premiere.
Check out all the premiere pics above! The movie opens May 18.
Not to be outdone, here are three of the men from the movie. They also had that hunky Brazilian dude (I forgot his name and am too lazy to look it up) and Chris Rock. The kid who played Chris Rock's oldest son stole the show. Seriously guys... Go. See. This. Movie.
Chace Crawford & Joe Manganiello Premiere 'What to Expect'!
Chace Crawford
and
Joe Manganiello
are two dapper dudes at the premiere of their film
What To Expect When You're Expecting
held at Grauman's Chinese Theatre on Monday (May 14) in Hollywood.
The 26-year-old
Gossip Girl
actor and 35-year-old
Magic Mike
star were joined by their co-stars
Matthew Morrison
and
Rodrigo Santoro
(in
Ermenegildo Zegna
).
On the carpet, the guys met up with co-stars
Brooklyn Decker
,
Jennifer Lopez
,
Anna Kendrick
, and
Elizabeth Banks
.
"Just got to the
What To Expect When You're Expecting
premiere! Loved seeing all the fans who came out to support!! Thank you!"
Matthew
wrote on his
WhoSay
page.
In other news, the show "Ringer" has been Canceled. And I was totally into that show too! Dang it, I won't ever find out what happens!! And like an idiot I told the guy who played Gemma's husband what a fan I was of the show last night when
we posed together for a picture
at the Premiere. He gracefully said thank you, instead of telling me it was canceled. So lame.
Sarah Michelle Gellar: 'Ringer' Canceled!
Sarah Michelle Gellar
makes a stop at Starbucks with her adorable daughter
Charlotte
, 2, while on their way to ballet class on Saturday (May 12) in Studio City, Calif.
Earlier this week, it was announced that the 35-year-old's show
Ringer
was not being renewed for a second season.
PHOTOS: Check out the latest pics of Sarah Michelle Gellar
The CW show premiered last September to ratings of 2.8 million, but slipped down to 1.2 million by the season finale.
However, despite the sad news,
Sarah
and hubby
Freddie Prince Jr.
are reportedly
expecting
their second child.
And now, for today's (tattoo) FAIL. Come on people. Go big or go home!
see more
epicfails
And today's (graffiti) WIN! Two thumbs up for creativity.
see more
WIN - Epic Win Photos and Videos
Hey, WTF?!! Well, I suppose that is a legitimate place to stash an iPhone. I personally would stick it in my cleavage first. And if it rings, who is going to answer it? Not I.
see more
Poorly Dressed
And that's all the time I have for today. Where would you store your phone if you had no pockets? Until tomorrow then...
Scientists originally made this observation before modern science could test why, yet it has since been proven that on average males have darker hair and skin than their female counterparts.
The difference is mostly due to the higher levels of melanin in the skin, hair, and eyes of males. Men also tend to have redder skin because of their greater blood volume. The reverse is also true.
Women tend to have blonder hair and green or blue eyes and lighter skin. Both of these are a result in lower levels of melanin.
While the reason originates from melanin differences, scientists are not sure exactly why men and women have different levels. However, they have noted that the difference in skin color tends to be more pronounced in populations that are neither very light nor very dark skinned.
(Source)