Freakalicious Friday to you all, my little gingersnaps. In the news, an Ohio deputy was fired after ordering inmates to dance in exchange for privileges such as using a phone or microwave. While most inmates were laughing and having a great time, one inmate complained that he was humiliated. Uh... I'm sorry... you're humiliated at dancing when YOU'RE IN JAIL? I think they should make all inmates dance. I think it should be mandatory, like it is at that jail in the Philippines (see video below article).
Ohio Deputy Orders Summit County Jail Inmates To Dance, Gets Fired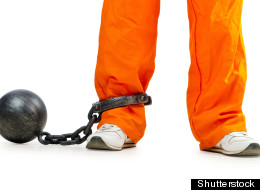 A northeast Ohio sheriff fired a deputy for ordering five jail inmates to dance to a song by Usher in exchange for privileges such as using a phone or microwave, the sheriff's office said Thursday.
Dominic Martucci was accused of ordering the inmates to dance last month, after they were locked up in a disciplinary area, and then inviting colleagues to watch. The date of the incident was unclear; according to an internal report, various inmates and deputies said it happened on either April 10 or 11.
The Summit County Sheriff's Office conducted an internal investigation after an inmate reported the incident, and the 35-year-old Martucci was fired this week for violating department policies by mistreating inmates, acting inappropriately and having a cellphone in the jail, apparently used to play the music.
One inmate did the worm as Martucci played Usher's "Yeah!" while another said he did the robot so that he could use a phone to contact relatives after a family member's death.
Investigators say several deputies watched the inmates dance after they happen to walk by the cell or were called by Martucci. Some deputies told investigators the dancing only lasted a few seconds. But several inmates say the dancing went on for at least several minutes, and it appeared the deputies were protecting Martucci by being on the lookout for any supervisors.
"The community needs to be assured that all inmates that come through the doors of the Summit County jail will be treated humanely and with respect," Inspector Bill Holland of the sheriff's office said Thursday. "All allegations to the contrary will be investigated. We take these matters very seriously, and any member of our agency that does not share this philosophy will be disciplined accordingly."
The internal report says inmates were asked by Martucci to do a "bump and grind" routine if they wanted a recently removed microwave returned to their unit.
Martucci said in the report he unplugged the inmates' unit microwave after some ignored his orders to return to their cell for lockup. He said he returned later to tell the inmates they would have to dance for him if they wanted to get out of lockup and get their microwave back.
Investigators said Martucci admitted making a mistake but told them he was only trying to ease tension in the jail. He said his actions were wrong in hindsight, and he had not planned to ask the inmates to dance. He also was cited for conduct unbecoming an officer and failing to properly document why the inmates had been put in the disciplinary area.
One inmate said Martucci told him he had to dance "one full minute to my liking." He said Martucci later didn't reward him for the dancing like he had with other inmates, and told him he "messed up, you'll be going to the hole."
Another inmate, who reported the incident, told investigators he felt "humiliated" for being forced to dance in front of other inmates.
The deputies who may have observed the dancing remain on the job, but the investigation is ongoing and could lead to further disciplinary measures, Holland said. Some deputies told investigators the inmates had been laughing and appeared to be having a good time during the incident, according to the report.
It's been a loooong day full of unethical people using my past personal blog posts (without permission) to push their agenda that I highly disagree with, so I sadly didn't have the time necessary to check out what dumb things the celebrities are doing today... and so we move on...
And now, for today's FAIL... Gotta love those Canadians. America's hat has it's own way of telling us it's unhappy. *ducks the oncoming hockey pucks*
see more
epicfails
And today's (passive-aggressive neighbor) WIN!
see more
epicfails
Hey, WTF?!! (taken yesterday by yours truly at my local Apple store) Four out of five Tibetan monks prefer Apple over PC.
And that's all the time I have for today. You bet I'm going after those people who used my blog posts without my permission, but let's all keep this in perspective by learning that the KKK denounced the Westboro Church by dismissing them as "hatemongers". That's gotta cheer everyone up.
Have a razzle dazzle weekend. Don't do anything I would do. See you back here Monday, same time... same place.
The Westboro Baptist Church is known for its extreme stance against homosexuality, picketing funerals of American serviceman and desecrating the American flag. They are so hateful that even the Klu Klux Klan distanced themselves from the church, denouncing them as "hatemongers." The church is an Independent Baptist church headed by Fred Phelps in Topeka, Kansas.
They are infamous for their slogans against those they deem as sinful such as: "God hates fags" (also the name of their website) and "Pray for more dead soldiers." Civil rights organizations the Anti-Defamation League and the Southern Poverty Law Center monitor the Westboro Church and consider them a hate group.
In May 2011 President Obama honored fallen soldiers at Arlington National Cemetery. Three members of the Westboro Church showed up to protest, and were met by 70 counter-protesters. Among those counter-protesters were ten Klu Klux Klan members. Allegedly, the "imperial wizard" of a KKK chapter led those ten. He said it was a shame that the Westboro Church showed up to disrespect people's funerals.