Ticklish Tuesday to you all, my little gingersnaps. How was your weekend? (since this is my first real post of the week) On Saturday I took a Women's Self-Defense Workshop taught by the Academy of Kung Fu that our kids attend. I'll have you know I can take now down a Kung Fu Sensei and I learned where exactly to kick a man that will make him involuntarily crap in his pants. #awesome

Of course when I bragged to my 6 year old daughter that I took down "Sensei Jack" she said, "Yeah right, Mama. He went easy on you because you were a beginner." *rolls eyes* Everyone's a critic.

In the news, a London-based communications company has installed lickable wallpaper inside their elevator, renaming it "Lick-able Lift". The wallpaper has 1300+ lickable cookie-shaped cookies. Sounds... interesting unsanitary. Now they say each cookie sticker is removed by the bell boy once it is licked to prevent more than one person from licking the same sticker, but seriously... what if there are 10 people in the elevator all at once and they're all licking cookies? How is he (or she) expected to keep up with which cookies are licked?! I will bet you some pre-licked cookies will sneak by undetected, only to be re-licked by some unsuspecting future elevator-riding, wallpaper-licker. You know I'm right.

Lickable Wallpaper Installed in a London Elevator
on
Mischief PR and McVitie's have teamed up to create the world's first lickable wallpaper made of 1,325 McVitie's Jaffa Cakes (cookies). Inspired by Willy Wonka, the wallpaper was installed in an elevator which they are calling a "Lick-able Lift." The elevator can be found in the offices at Engine, a London-based communications company.
1,325 Jaffa Cakes and four weeks of painstaking planning cumulated in this lift that can take its passengers to heaven (Floor 16) and back.

Update: On the hygiene point – once a Jaffa Cake is licked they're removed by the bell boy (out of shot) so no-one else can lick them. We don't want a Jaffa Cake induced epidemic on our hands!
Source: laughingsquid

In celebrity news, Kelsey Grammer has decided to show some real commitment to his FOURTH wife by getting her name tattooed on his hip. He said he wanted it small so it's easier to remove when he moves on to wife #5 since it's his first tattoo. Smart thinking, Kelsey. Maybe the tattoo will help this marriage be more permanent than the previous three.

Kelsey Grammer Gets Wife's Name Tattooed on His Waistline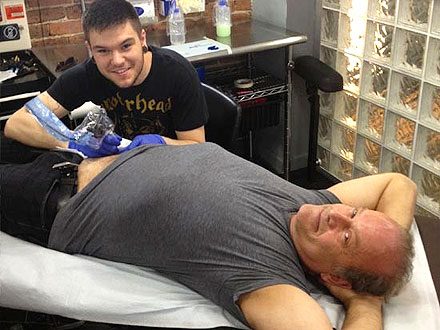 Fourth marriage,
but first tattoo!
Kelsey Grammer is so smitten with his wife of 14 months, Kayte Walsh, that he braved the tattoo needle for the first time on Saturday, getting her first name emblazoned on his waistline, the
Chicago Sun-Times
reports.
With Walsh by his side, the
Boss
star, 57, looked over some designs at Chicago's Insight Studios and got the tattoo in blue ink, with letters about half an inch tall, says tattoo artist James Eastwood, who did the honors.
Grammer asked for "something small because it was his first one," says Eastwood, 23. "He's the only famous person I've ever tattooed. He's a pretty down-to-earth dude."
The tattoo set the former
Frasier
and
Cheers
star back $60.
Eastwood's grandmother, Christine Darbo, happened to be visiting the store with a friend at the time and got to chatting with Grammer and Walsh, who is
expecting twins.
"They were just normal people. We were talking about tattoos," says Darbo. "He said, 'I'm going to get Kayte's name.' My friend asked, 'So how long have you been dating that he wanted to tattoo your name?' She said, 'We are married.' "
Darbo added: "I figured with his background he should just put a 'K' with a period to give him some flexibility."
In other celebrity news, Arnold Schwarzenegger's son Patrick is literally in love with the word "literally". He tweeted that he was "literally so dead" after the Coachella music festival. He also said (of the Tupac Shakur hologram concert) that he "literally thought Tupac rose from the dead".

Dear Patrick, it's literally very easy. Whenever you think of using the word, "literally", just replace it in your head with "actually" and then you will literally know whether you should use the word "literally" in a sentence. You're welcome. Love, me.

Patrick Schwarzenegger: 'Literally So Dead' After Coachella
Patrick Schwarzenegger hangs out with some pals during day three of the 2012 Coachella Music Festival on Sunday (April 15) in Indio, Calif.
"Post coachella car ride… Literally so dead," the 18-year-old aspiring model and actor tweeted with a pic of his sleepy friends.
"Literally thought that tupac rose from the dead… That tupac hologram at the dre and snoop concert was sooooo crazy," Patrick wrote in another tweet.
Source: JustJared

And now, for today's (deep thinking) FAIL... Jose (steroid-brain) Canseco decided to devote some of his wisdom onto his twitter followers regarding the Titanic and Global Warming.

His 2nd tweet literally confused me. Does he think the Titanic was sunk by icicles? Cause that's literally stupid.

Source: DListed

And today's (parenting) WIN!
Source: cheezburger

Hey, WTF?!! Uh, no thank you.


see more Poorly Dressed

And that's all the time I have for today. Be on the lookout today for inappropriate uses of the word, "literally" and until tomorrow...

Most ships lost at sea were the victims of huge waves caused by hurricanes or large storms. But it was a lack of waves that contributed to the Titanic hitting the iceberg at 11:40 pm on April 14, 1912, and sinking on the 15th, a hundred years ago. On that night the weather and the sea conditions were perfect -- but for the Titanic, they were too perfect.
There was no wind, and thus there were no waves. It was a flat calm. It was also a dark moonless night, which made it difficult to see an iceberg in the distance. On such a night, waves would have made the iceberg more visible. Even small waves would have caused a bright phosphorescent line around the base of the iceberg, due to the millions of dinoflagellates that migrate to the ocean surface at night.
These tiny plankton glow brightly even with the slightest disturbance. (Sailors had seen this phosphorescence many times as they rowed through such waters, every stroke causing a glow that clearly outlined each oar.) On that night there was not even a gentle swell that could have caused a phosphorescent line around the iceberg.
These were extremely rare conditions for the North Atlantic in April. On almost any other night the huge iceberg would probably have been seen by the lookouts in enough time for the Titanic to avoid hitting it. For more Ocean facts check out Dr. Bruce Parker's book: The Power of the Sea.