Magical Monday to you all, my little gingersnaps. Did you guys have a good Easter? Mine would've been better had Mr. G not been working on a movie all weekend (including Easter). So I brought the kids to an Easter Egg Hunt at a friend's house with a bunch of other kids, where my oldest (and very passive, polite boy) was bullied by a younger (and very aggressive boy) and my girl had a meltdown. So we left early. Yeah, that was awesome.

But I did manage to dress up Tonks in her Easter best! (I did try to take a picture of my 20 pound giant bunny but she would not cooperate. At 20 pounds, she I don't make her do what she doesn't want to.

In the news, a woman was arrested for punching her live-in boyfriend because he refused to have sex with her. Wait, you mean sometimes men say no to sex with their significant others? *tilts head in confusion*

Inez Nunez Punched Her Boyfriend In The Face Because He Wouldn't Have Sex With Her, Cops Say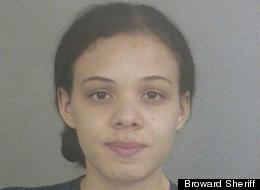 It was an extreme case of sexual frustration.
Inez Nunez, 18, was arrested on Tuesday for allegedly punching her boyfriend in the face because he wouldn't have sex with her, NBC Miami reported.
On Tuesday, cops were called to her home in Coral Springs, Fla., for a domestic disturbance between Nunez and her live-in boyfriend. The man said that the two had been arguing, and Nunez socked him because he called her ugly and wouldn't sleep with her, according to WPTV.
The victim's father said he heard the tussle, which allegedly continued as Nunez slapped him while he was on the ground.
Nunez reportedly argued that her boyfriend had also slapped and choked her. Cops deemed her story to be inconsistent, saying in a report that the story changed several times.
Nunez was arrested and jailed on a $2,500 bond.
Source: huffingtonpost

And in wanna-be celebrity news, 17 year old Courtney Stodden, wife to 51 year old creepy dude from Lost, dressed up for a photo shoot to provide us all with "erotic, Easter spirit". Hmmm... of all the images that come to mind when I think of Easter, "erotic" isn't one of them.

And suddenty Heidi & Spencer don't seem so bad.

PICS:

Courtney Stodden Dons Skimpy Lingerie, Hooker Heels for Easter Egg Hunt
Happy Easter from Courtney Stodden!
To mark Sunday's Easter holiday, 17-year-old model/singer Stodden -- married to 51-year-old actor Doug Hutchison -- celebrated the best way she knew how: By posing for a series of provocative themed photos.
Donning sexy white lingerie accessorized with bunny ears, a fluffy tail, pink bow tie and sky-high lucite heels, Stodden proudly put her wedding ring on display as she hunted for Easter eggs in the California-set shots.
"Spreading some erotic Easter spirit your way," Stodden tweeted along with a link to additional photos obtained by the U.K. Daily Mail, which feature the teenage bride munching on a carrot and changing a spark plug in her broken-down Jeep.
Credit: Jeff Rayner/Coleman-Rayner
Constantly scrutinized over her buxom figure, Stodden has long insisted she's never gone under the knife.
Source: usmagazine

In other celebrity news, it appears that while Zac Effron was on the phone, he must have lost something down his pants. Some Easter eggs maybe? Yes by all means, if you're the target of the poprocksies, please go out onto your public balcony before you go searching for something in your pants. SMH

Source: dlisted

And now, for today's FAIL... These homemade Easter bunnies are only slightly less creepy than the 17 year old "erotic Easter bunny" above.


see more Sketchy Bunnies

And today's WIN!!! I want a wardrobe that leads into another room!


see more WIN - Epic Win Photos and Videos

Hey, WTF?!! I know several people in the public eye (mostly politicians) who could've benefited from having this book.


see more WTF Pictures and WTF videos by Picture Is Unrelated

And that's all the time I have for today... let's all share a special talent we have. Me: I can empty my bladder in 5 seconds or less. You're turn... now go!

Louis is the star of FX's comedy series Louie. He writes, directs, and edits for the series. He's an award winning stand-up comedian actually.
His grandma was Mexican and his grandpa was a Hungarian Jew who migrated to Mexico and met her. His father was born in Mexico and met his mother at Harvard. Louis was born in Washington D.C. but actually grew up in Mexico City until he was seven. His first language was Spanish and still remains a Mexican citizen. He frequently jokes about how people assume he's a White American and the funny situations he finds himself in because of this.