Wiggly Wednesday to you all, my little gingersnaps! If you ever happen to find yourself drunk, dressed in a sombrero with a boxing glove and have an urge to jump on the hood of a police car while yelling your name, THIS is the kind of face you need to make when they arrest you and take your mug shot. Hats off to you Jesse James Thomas. You should win an award for this mug shot alone.

Jesse James Thomas Charged: Sombrero, Boxing Glove-Clad Drunk Man Jumped On Cop Car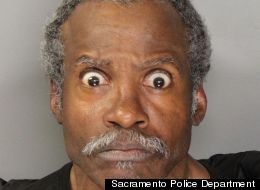 Writers for "The Hangover" could have taken a cue or two from this scene.
As a Sacramento cop sat in his patrol car, a drunk man walked up and leaped onto the hood of the officer's vehicle, according to a police report obtained by the Sacramento Bee.
But this was no ordinary drunk man. This was Jesse James Thomas wearing a sombrero and a boxing glove, and he was here to make his name known, police said.
Thomas, 55, allegedly did just that and screamed his own name repeatedly from atop the cop car before fleeing, KCRA reported.
Soon after, cops found him lying in the street nearby and Thomas was arrested on suspicion of public drunkenness, the Examiner reported.
Source: huffingtonpost

You may have heard of Donald Trump disqualifying a transgender contestant from the Miss Universe pageant, and later reversing his decision and letting her/him participate. Gloria Allred (of course) got involved and said that the transgender contestant didn't ask Donald Trump if he was a naturally born male and ask to view his anatomy.

Uh... what kind of comeback is that, Gloria? Stupid, that's what kind of comeback that is, cause Donald Trump wasn't trying to win "Miss Universe". Anywho, Donald Trump responded by saying the Gloria would be impressed if she saw his genitals. And I think we can all give a collective "ewwwwwwwwww" to that mental picture. And to think that man almost ran for President.


Donald Trump
is confident ... attorney
Gloria Allred
would be blown away by his man junk.
The Donald called in to TMZ Live moments ago, claiming, "I think Gloria would be very very impressed with [my penis]."
Donald's genitals became a topic of contention earlier today during
Gloria's news conference
with transgender beauty queen
Jenna Talackova
-- when Gloria said, Jenna "didn't ask Mr. Trump to prove he's a naturally born man, or see photos of his birth, or to view his anatomy ... It made no difference to her."
But it makes a difference to Donald, who said he'd be willing to show what he's got ... if Gloria's willing to pay the right price.
Donald also said he wouldn't apologize for disqualifying Jenna last week from the Miss Universe pageant on the basis of her birth gender -- even though he later reversed his position -- and added, he "couldn't care less" if Jenna even competes.
Source: TMZ

Speaking of TMI and discussing one's own genitals, Mark Ruffalo (who plays The Hulk in the upcoming "Avengers" movie) discussed feeling uncomfortable in the outfit because he states he is not well-endowed. Thank you Mark Ruffalo. I will try not to stare too hard at your green hulked-out gentleman's sausage when I'm watching the film.

Mark Ruffalo On 'Avengers,' Following In Ed Norton's Footsteps & Not Being 'Well-Endowed' A number of journalists paid a visit to the set of "The Avengers" when the movie was being filmed and some very interesting tidbits are coming out of their interviews with the cast of the film.
While HuffPost Entertainment already covered the secrecy and sneak peaks journalists at the event witnessed, Slashfilm snagged one interesting and previously overlooked part of the chat.
In the middle of a roundtable with journalists, Mark Ruffalo, who plays the Hulk in "The Avengers," had an odd way of describing his frustrations on set. When asked about filming in motion capture suits, Ruffalo opted for some real talk.
"Yes, and that was my first day and that was a miserable day," he said. "It was smoky, it was hell and I felt really uncomfortable. I'm not well-endowed, and those suits don't really show you off in the most…"
The affable overshare was followed by a discussion of Ruffalo's co-star Scarlett Johansson, who told reporters she wasn't wearing underwear on the shoot. "They spray paint her suit on in the morning," Ruffalo said. "But she looks good in it."
Other highlights from the session include a discussion of Ruffalo's anxiety about taking on the role. Comic book fanboys are a notoriously passionate group and Ruffalo is the only star in the ensemble cast who hasn't already played his character (Robert Downey Jr., for example, has already been Iron Man -- twice).
"I made a mistake of going online one day and reading the fan-boys' take on me playing the Hulk," Ruffalo said. "It was not encouraging."
The Hulk was previously played by Eric Bana (in "Hulk") and Edward Norton (in "The Incredible Hulk").
Publicists for "The Avengers" were eager to keep much of the film under wraps. As HuffPost found out, every actor was accompanied by a representative of the film who would direct the stars as to which questions they could or could not answer. Ruffalo endearingly referred to himself as the "loose canon of the Marvel family."
For more on the story, including how director Joss Whedon worked with each actor, head over to Slashfilm. "Avengers" assemble in theaters May 4.
Source: huffingtonpost

And there must be something in the water because the actor who plays "Spiderman" in the latest sequel also discusses his genitals by admitting he is naked under his Spider-Man Costume.

Wait, what? He's naked under his costume? Well I'm naked under my clothes right now. In fact, every day I'm naked under my clothes. And when I wear a costume, I'm naked under that too. *shrugs*

Anywho, he admitted he's shy about his body, so having his gentleman's sausage filmed from every possible angle made him feel very uncomfortable. Thank you Andrew Garfield for warning us that you are naked under your costume.

Andrew Garfield Reveals He's Naked Under the Spider-Man Costume
Andrew Garfield is a supporter of the no visible panty lines rule -- which is why he opted to go completely naked underneath his costume for The Amazing Spider-Man.
"It's just me [under there]. It's terrifying," the British star tells Ellen DeGeneres during his Tuesday interview, after the Ellen host asked about his nicker situation -- or lack thereof.
And despite him being male, the Social Network star admits that he's shy about his body just like his female friends.
"One of the first nights we were out in location in downtown L.A. in a parking structure and I knew there were paparazzi taking terrible, unflattering shots of my, you know, everything," he tells DeGeneres. "Knowing that your keester is being shot from many different angles makes you very uncomfortable."
Source: usmagazine

And now, for today's FAIL... that tattoo is so lame.

(Thanks Mia!)

And for today's WIN!!! This couple is awesome. I fully expect this to be the future of Mr. G and I when we are no longer ambulatory. Except he needs to be the one driving the scooter. I want to ride the horse and hold the whip.

see more epicfails

Hey, WTF?!! I'm not sure they covered this kind of incident at the Police Academy. I could've shown you the uncensored pic, but I don't think anyone needs to see that. (although if you do need to see it, click the link below the picture... though be warned: This falls under the category of "Things You Can't Un-see") And I'm pretty sure this horse will put even Donald Trump to shame.
Source: dlisted

And that's all the time I have for today. Watch out for frisky horses, and check to see if you, too, are naked underneath your clothing. Until tomorrow then...

Scientists are genetically modifying strawberries in order to allow them to resist freezing temperatures better. They're doing it by artificial transfer of genes from a species of fish called the Arctic Flounder Fish. The Arctic Flounder Fish produces an anti-freeze that allows it to protect himself in freezing waters.
They isolated the gene that produces this anti-freeze and introduced it to the strawberry. The result is a strawberry that looks blue and doesn't turn to mush or degrade after being placed in the freezer. While they're not in production, research is ongoing. Let us know in the comments, would you eat blue strawberries?