Telepathic Tuesday to you all, my little gingersnaps!!
Remember my blogoversary 5-book giveaway? Well I told you losers...er... people who didn't win not to cry foul so quickly because if the winners didn't claim their books, I'd redraw. One winner left no way to contact her. One I clicked on her name and tried to contact her via her profile, but got no response. So... I did a redraw for the two books that weren't claimed.
The NEW winner of Red-Headed Stepchild (Sabina Kane)
by Jaye Wells is...
Christine Marie!!!

The new winner of Night Pleasures
by Sherrilyn Kenyon is...
Catalina!!

Congrats to the winners!! Email me your addresses and I'll mail the books off to you!
On to the news... a beauty salon in Siberia performs a "medical cosmetic massage" using African snails. The owner claims it helps skin regeneration and eliminating wrinkles.

First of all... I had no idea there were beauty salons in Siberia. Do they have to use sled dogs to get there? Wouldn't the arctic blast on the skin just undo whatever benefits the African snails just did? Why does the owner need African snails? Because it's TOO COLD IN SIBERIA for snails to live naturally. Probably. (I didn't actually fact check this... I'm just assuming) And I read the Chronicles of Vladimir Tod series, so I know they use sled dogs in Siberia for transportation, cause you know... everything I read is true.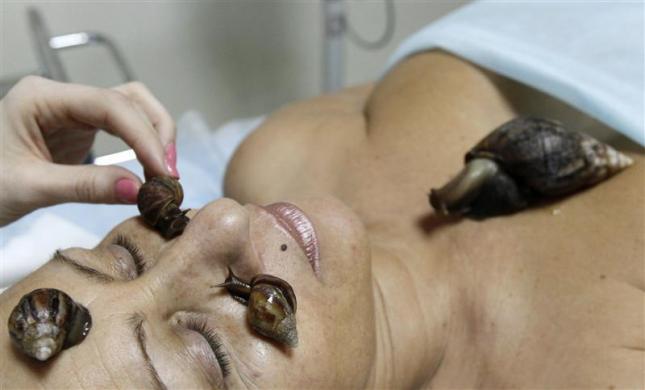 At a beauty salon in Krasnoyarsk, Siberia, an employee performs a "medical-cosmetic" massage on a client using African snails. The salon is the only one in the region using the "snails method", which owner Alyona Zlotnikova claims can speed skin regeneration and eliminate wrinkles. Photo: REUTERS/Ilya Naymushinclaimed.
Source: boingboing

And now for the incredibly clever, but sadly the only condoms that will probably reach their expiration date... Star Wars Condoms!!!

Star Wars Condoms
on
Italian graphic designer Benedetto Papi has created May the condoms be with you, a conceptual line of Star Wars condom wrapper designs. Each one features a familiar Star Wars characters with witty sayings like "May the Force Be With You" and "Do or Do Not. There is No Try."
via Obvious Winner
photos by Benedetto Papi
Source: laughingsquid

In, incredibly-messy celebrity break-ups, Melissa Etheridge and her ex-girlfriend Tammy Lynn Michaels are fighting again about the terms of their custody and child support. Mainly, Tammy Lynn Michaels is taking Melissa Etheridge back to court because she apparently can't live on $23,000/month and is barely scraping by. Her reasoning is that she got accustomed to living extravagantly when with Melissa Etheridge, so the $23K/month is incredibly unfair. Excuse me while I bring out my hanky and wipe a tear for Tammy. Oh wait, I don't have a hanky. Never mind.

Uh... *timidly raises hand* I can live quite happily on $23,000/month. And I live in one of the most expensive cities in the country. #justsaying

Melissa Etheridge
's ex-GF
Tammy Lynn Michaels
claims she's barely scraping by on the $23,000 a month Melissa currently pays her in partner and child support -- and now, she wants a massive raise ... this according to new court docs obtained by TMZ.
Tammy just filed the papers in the couple's infamously bitter separation claiming Melissa makes roughly
$177,882.00 PER MONTH
... and got Tammy accustomed to an extravagant lifestyle while they were together ... so the $23k is incredibly unfair.
Tammy -- a former actress -- also claims she has "virtually no savings" and would need "extensive retraining" if she were to rejoin the workforce.
Tammy claims Melissa is also brainwashing the kids -- training them to be emotionally distant and rude to Tammy ... and now they won't even give her a hug.
Tammy also accuses Melissa of cursing around the children -- including one instance ... when she told Tammy to "get the f**k off my back" in front of the kids. According to Tammy, Melissa also refuses to let the kids get vaccinated.
As for the reason behind the mudslinging -- Tammy and Melissa are headed into a settlement conference in May to determine support and custody issues ... so it's important for Tammy to demonstrate she's the better mom.
On top of increased support, Tammy also wants Melissa to pay her $120,000 legal bill. Calls to Melissa were not returned.
Introducing... the Katniss Barbie Doll!!! I'd say they did a better job with her than with the ridiculous Twilight barbies. Only, if you plan to get her, I wouldn't leave her alone with your other barbies. No telling what she'll do with that bow & arrow when you're not looking. #therecanbeonlyone

The Katniss Barbie Doll Is Now A Reality
Attention, "Hunger Games" fanatics: Katinss Everdeen's likeness now comes in the form of a Barbie and it looks a lot like Jennifer Lawrence.
A pretty quick turnaround from movie to toy stores, if I say so myself.
She comes equipped with a bow and arrow and is wearing her mockingjay pin, too, so in other words: it's pretty legit.
Source: buzzfeed

And now, for today's FAIL!!! Gotta love the English language, especially when someone who doesn't really understand English tries to create "funny" shirts in English.


see more epicfails
And today's WIN!!! Props to this mom for knowing her geek daughter.


see more epicfails

Hey, WTF?!! I think this headline wins some sort of award. And who keeps a wrench handy when they're doing the horizontal tango?


see more epicfails

And that's all the time I have for today. Congrats again to the new winners! And until next time...

With the 21st century and new technology comes new fears. The fear of being without a cellphone or without phone service is nomophobia! Nomophobia is a fairly new word, with its earliest recognized use being in 2008. A study done in the UK surveyed 1000 people about use of their phone and the degree to which they had nomophobia.
According to the study, two-thirds of people fear losing their phone, and so could be said to be nomophobic. More women than men reported having significant fear of losing their phone. Unsurprisingly, people aged 18-24 have the highest percentage of nomophobia. Those who are older tend to experience lower percentages of nomophobia.
Many young people who have grown up with such technology can't imagine living even a few days without it. It is an imperative vital way of connecting to their world and other people.