Flamboyant Friday to you all, my little gingersnaps! Got any special plans for the weekend? Well, my family and I are headed to Yosemite this weekend, where we will rent a house for an entire week. That's right, my idea of camping consists of renting a house with a master bathroom. And I will be bringing my tempur-pedic pillow with me.

We go to Yosemite every year, sometimes even twice a year. Might this be the year I finally see a bear? I've heard bears. I've seen the signs along the road, placed at every location a bear was hit and killed by a car.

One year a bear was scratching on our rental house's door at night. I chose not to open the door. I do believe the closest I ever came to being near a bear in Yosemite was the one time we took a hike VERY early in the morning and there was a steaming pile of bear crap right next to the hiking trail. Very exciting.

One would think I'd be scared of bears. Especially since I grew up with bears in my family room. You heard me. This was my childhood family room. Black bears, Grizzlies and Bobcats, Oh My! (and various other trophies not pictured) #reasonswhyiturnedoutweird
Here is me, with our 8 and 1/2 foot Grizzly my dad shot in British Columbia. See? I grew up with a Canadian.

And if you thought they gave me nightmares, you'd be right. You know, my recurring nightmare where they would come alive at night and chase me through the house while I could only run in slow motion and had no voice to scream. And STILL I'm hoping to see a bear in Yosemite. #weirdo

In Yosemite, we managed to snag one of only two rental houses that has wi-fi, though in past experience wi-fi access depends on weather. What I'm trying to say is I may have access and might still be able to blog from Yosemite, or I may not. OR, I might become incredibly lazy after a day of hiking trails and decide to read a book. You guys will just have to wait and see!
Let's move on to the news, shall we? A Brazilian male prisoner dressed up in his wife's clothing, shaved his arms and legs and applied makeup (sort of) and a wig so he could waltz right out the front door of the jail. (which he did) However an hour later a policeman noticed he was having trouble walking down the street in heels and arrested him.
I like how the report described him as wearing a "pretty blue dress". I'm quite frankly surprised they let him walk out of jail dressed like that. Brazilians are known for having beautiful women, and this guy is definitely not. That should've tipped them off right there.

Ronald Silva, Prisoner Dressed In Drag, Attempts Prison Break
He thought jail was a real drag.
Brazilian prisoner and alleged drug trafficker Ronaldo Silva recently attempted to escaped his lockup in his wife's clothing.
Photo below
Silva, 39, allegedly shaved his arms and legs, dolled up his face and threw on a wig before waltzing out of Penedo prison, unnoticed by guards inside, the Mirror reported.
However, there's more to being a woman than a bra and panties. This guy couldn't carry himself in heels. A cop noticed Silva walking strangely less than an hour later on the street and collared him on the spot.
"He was wearing a wig, painted false nails and a long dress," Jail director Carlos Welber told The Sun. "He'd spent a long time shaving his legs and arms. There was a lot of preparation and premeditation involved in this."
The result is a shocking before-and-after mugshot, in which Silva can be seen wearing a pretty blue dress, lipstick and a wig.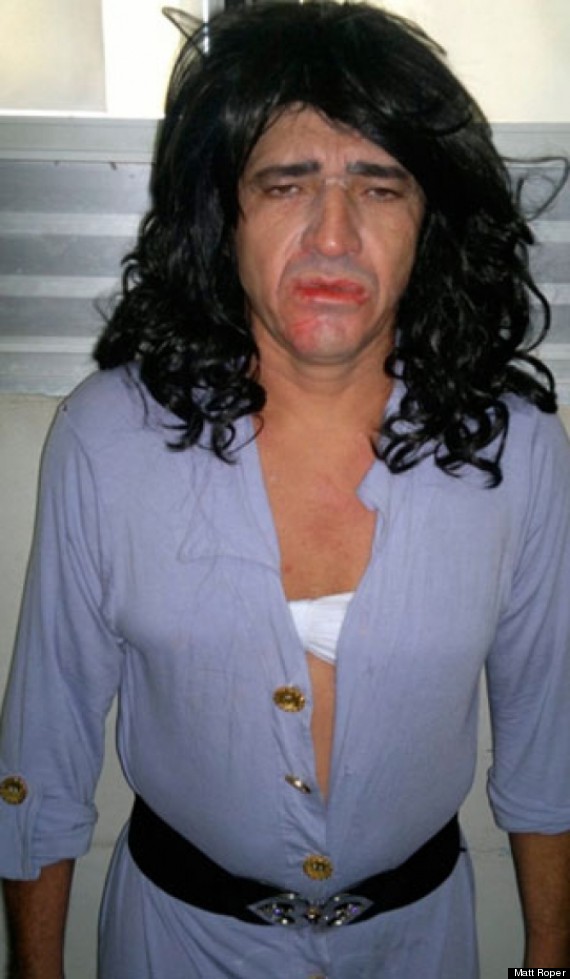 Welber said that Silva's wife had exchanged clothing with him during a visit, but reportedly claimed that she had no idea why her hubby wanted to cross dress.
Silva had already been awaiting trial for drug trafficking, and was transferred to the prison after another attempt to escape jail, according to Hispanically Speaking News. In that case, Silva allegedly had armed men invade the jail to break him out.
Source: HuffingtonPost

Well it must be a day ending in "y". Heidi Klum is posing nude. Again. Once again she'd like to rub it in our faces that she still looks like that after giving birth to four kids. I've said it before and I'll say it again. Heidi Klum is not human. She's either an automaton or a cyborg.

Heidi Klum Poses Nude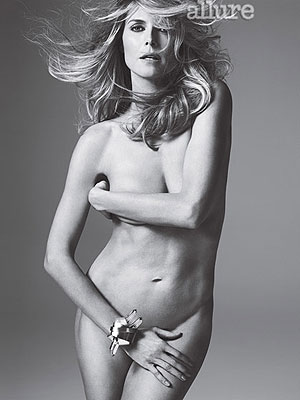 She's pushing 40 and is a mother of four – but
Heidi Klum
isn't afraid to bare it all.
The supermodel, 38, poses nude in
Allure
's
May issue
, showing off her toned physique and discussing why she's never gone under the knife.
"I'm proud to be able to say, in this day and age, I haven't done anything," Klum tells the magazine. "Everyone has a view of what's not pretty and [plastic surgery] just doesn't look pretty to me."
The
Project Runway
host
filed for divorce from Seal
, her husband of seven years, on April 6, and she tells the magazine about adjusting to her
post-split life
.
"I had dreams of how I wanted things to be and planned for things and, as we all know today, they don't always turn out as you dreamt them in your head," she says.
"Sometimes life throws you a curveball," Klum continues, "and then you just figure it out and deal with it, but my dream always was that – to have the perfect family and have lots of children and a beautiful garden and trampolines and swings and things."
The leggy model also dished about her early career struggles: "I never did fashion shows – not in Paris or Berlin or even in New York City. I tried but no one would book me."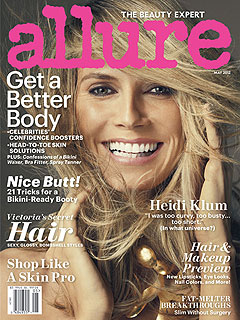 She recalls being rejected in her 20s by fellow
Project Runway
judge Michael Kors, who saw her in his clothes when she was 20 and said, "Thanks, but no thanks."
Although her marriage did not turn out the way she'd hoped, the supermodel and mom says she has no regrets about her life. "No, I don't resent anything that ever happened. Things just turn out the way they turn out."
This couple doesn't need an alarm clock. They say at 5am sharp every morning their cat sticks his paws under the door and starts playing with their doorstop. He's apparently not hungry. Just bored.

I personally don't do well when something wakes me at an ungodly hour. Which is why my five inside cats have their own bedroom that they retire to at night. That's right, my boys share a room but my cats have their own bedroom. #crazycatlady

Source: boingboing

And now for today's (following instructions) FAIL...

see more epicfails
And for today's WIN! That is one ugly mofo...

Random Ginger Fact: "Predator" is my all time favorite movie.


see more WIN - Epic Win Photos and Videos

Hey, WTF?!! That is one whack job of a tramp stamp. It's not even centered over her butt crack.


see more Poorly Dressed

And that's all the time I have for today. Like I said, I may or may not be posting next week depending on my wi-fi access and motivation. At the very least I will try to post pictures. Unless of course I'm eaten by a bear. Until next time then...

Sigurd Eysteinsson was a leader in the Viking Conquest of what is now northern Scotland. Near the end of his reign, Sigurd challenged a native ruler named Máel Brigte the Bucktoothed to a 40-man-a-side battle to "settle their differences."
Brigte agreed, but Sigurd deceived him, and brought 80 men. Brigte immediately knew he was defeated and told his men "kill at least one man before we die ourselves." Sigurd's army quickly defeated Brigte's, and as trophies, Sigurd's men strapped the severed heads of their enemies to the saddles on their horses.
On the return home, Brigte's head, which was hanging from Sigurd's saddle, scratched Sigurd's leg with his bucktooth. The leg became inflamed and infected, and Sigurd died as a result. Quite a strange testament to the existence of karma, don't you think?