Thinning Thursday to you all, my little gingersnaps. In the news, a 28 year old man is suing the hospital that circumcised him as a baby. He says in the lawsuit, "I was recently made aware that I had been circumcised and that ... I was robbed of sensitivity during sexual intercourse as well as the sense of security and well-being I am entitled to in my person"
Okay, hold up... the man is 28 and only recently was made aware that he had been circumcised? And this latest revelation has now left him with a loss of sensitivity during sex & loss of sense of security? Okay, my 12 year old (who hasn't gone through puberty yet) knows he's been circumcised. Of course the jury is still out on whether or not he will sue the hospital (or me) in the future for that.

Note to self: start defense fund now for possible future lawsuits from own children in regards to things I did to them as children, including, but not limited to... circumcision, ear piercing, etc.

Back to this nitwit who didn't realize until someone recently told him, that he was circumcised... he wants his foreskin back! Oh yes! Did I mention he's currently in JAIL for kidnapping? Maybe that's also due to his being circumcised.

Note to self: start defense fund for two sons I had circumcised who will probably end up in jail for kidnapping due to loss of well-being and security from lack of foreskin.

Dean Cochrun Sues Hospital For Circumcising Him As Newborn SIOUX FALLS, S.D. -- A South Dakota prison inmate is suing the hospital where he was circumcised as a newborn, saying he only recently became aware that he'd undergone the procedure and that it robbed him of his sexual prowess.
Dean Cochrun, 28, is asking for $1,000 in compensatory and punitive damages. He also asks in the lawsuit that his foreskin be restored "in the hopes I could feel whole again," though he acknowledged that he didn't expect such a restoration to be anything more than aesthetic.
Cochrun, who is imprisoned in Sioux Falls on a kidnapping conviction, filed the federal lawsuit Friday against Sanford Hospital. Cochrun claims that an "unknown doctor" at the then-named Sioux Valley Hospital misled his mother to believe that the procedure was medically necessary. Cochrun argues that the procedure was unnecessary, unethical and without medical benefit.
"I was recently made aware of the fact that I had been (circumcised) and that ... I was robbed of sensitivity during sexual intercourse as well as the sense of security and well-being I am entitled to in my person," he argued in the lawsuit, adding that neither he nor his partners would "have that sensitivity during sexual intercourse and have a normal sex life."
Cochrun isn't represented by a lawyer in the lawsuit, which includes a letter from Sanford officials responding to a letter requesting that his foreskin be replaced. Patient relations representative DyAnn Smith replied that Sanford would not pay for the procedure.
"There will be no further correspondence about this matter," she wrote.
Source: huffingtonpost

So... this is what anorexic people Victoria Beckham has for her birthday "treat". Well, Victoria... I'm so glad you had the opportunity to splurge on that extra bit of fruit for your birthday. Go you! *looks at own body, gets depressed and heads off to Ben & Jerry's to cheer myself up*

Victoria Beckham Celebrates Her Birthday with Fruit for Lunch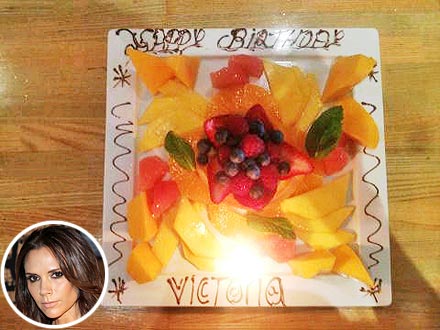 Courtesy Victoria Beckham; Inset: Rob Kim/Getty
Celebrating a birthday is the perfect excuse to enjoy something sweet to eat – and
Victoria Beckham
is no exception. But don't count on the fashion designer to indulge in cake and ice cream.
Instead, Beckham, who turned 38 on Tuesday, enjoyed a heaping helping of fruit on her big day.
"Birthday lunch!!! such a lovely day!!!!"
she Tweeted
with a photo of a plate of berries and citrus.
Source: People

The surviving member of Milli Vanilli wants us to know that EVERYONE lip-syncs these days, so in a way, Milli Vanilli was a pioneer of sorts. Uh... Mr. Fabrice... people are at least lip-syncing their OWN auto-tuned voices, not someone else's voices like you guys did.
Never mind that I still remember all the lyrics to all the songs on their album. (and sing them enthusiastically when I hear them) Hey, at least I didn't see Milli Vanilli in concert like Mr. G did! *snickers*

Milli Vanilli Who DOESN'T Lip-Sync These Days?
Fabrice Morvan -- better known as one half of duo Milli Vanilli -- tells TMZ ... he's sort of a trailblazer ... because nowadays almost EVERYBODY in pop music lip-syncs their songs.

Fab was leaving Le Pain Quotidien bakery in L.A. yesterday ... when we asked about his infamous phony vocals scandal in 1990 ... when it was revealed neither he nor Rob Pilatus actually sang any of the hits on their album, "Girl You Know It's True."

Fab tells TMZ, "There is no difference between what I did back then and what people are doing now."

He explains, "If you wanna break it down, people might say, 'Well you didn't sing' ... but the fact of the matter is ... now the machines are doing it."

Fab says technology like Auto-Tune allows singers to completely change their voice ... duping fans into believing they can sing ... when, in fact, they can't.

"I ain't pointing the finger, but if you're doing all this and you're not performing the song live ... then you're not doing anything different from what I did."

In case you forgot, check out Milli Vanilli's biggest hit, "Blame It On the Rain." It was later revealed the real vocals were provided by several other people.
Source: TMZ

Well who doesn't want to watch a bunch of stormtroopers doing the Stormtrooper Shuffle?
And now, for today's FAIL... when you take a picture of someone, consider if there is a mirror in the room. Then look to see if your reflection will show up in the picture. #awesome


see more Poorly Dressed

And today's WIN! That's impressive. And it's a good thing I'm not in that room, because I'm not sure I would be able to resist knocking that over. It's a compulsion I have, just like my compulsion to cheat whenever playing board games or with cards. (just ask my kids)


see more WIN - Epic Win Photos and Videos
Hey, WTF?!! I'm guessing the Honey Badger stole all the honey and now Pooh's taking it pretty hard.


see more WTF Pictures and WTF videos by Picture Is Unrelated

And that's all the time I have for today. Grab a stack of pennies and see what you can do with them. Until tomorrow then...

John Eisemann designed the Ohio state flag in 1902. The blue triangle in the flag is to represent the state's hills and valleys. The stripes represent roads and waterways in Ohio. Ohio is one of the 5 states that make up the Northwest Territory, thus it has 5 stripes on its flag.
Being the 17th state admitted into the union, the flag has 17 stars on it and the 13 stars above and below the circle are to represent the 13 original colonies. Ohio's nickname is the Buckeye State, which is why it has the white circle with the red dot in the middle of it. The circle also makes an O, which represents Ohio.
The flag's shape is not just unique among States in the American union; it's one of two flags that are not quadrilateral shaped at a state-level or above, the other being the flag of Nepal. The flag was fashioned after the flags flown by the cavalries during the Civil War and the Spanish-American War.