Thwacking Thursday to you all, my little gingersnaps. Let me just preface this post by saying that Mr. G is working late on some movie that I'm not allowed to discuss, and therefore I'm home alone, with the kids in bed and have now consumed an entire bottle of wine by my lonesome. Anything I say from here on out may be blamed on that bottle of wine. If only my computer auto-corrected like my iPhone, my life would be so much easier. But I digress...
In the news, someone is stealing a sh*t-load of bees and they should stop it. How does one steal a 500 pound beehive from a restaurant anyway? Never mind, I don't want to know. Don't you know bees are more likely to sting gingers than non-gingers? It's true! Keep me away from those stolen bees. I'm not going to say it's Winnie the Pooh, but I wouldn't overlook any suspect at this point. I never did like him anyway.

500 Pound Beehive Stolen From Outside Houston Restaurant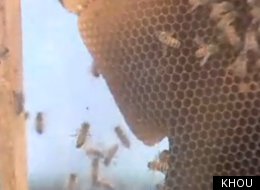 Americans have enough to contend with: stubbornly high unemployment, the ongoing war in Afghanistan and high gas prices. And now, just when you thought things couldn't get any worse, beehive theft is on the rise.
KHOU in Houston reports that unidentified thieves loaded a 500 pound beehive valued at $1,000 into their truck and stole it from outside a local restaurant.
The restaurant's chef told KLTV the thieves must have known what they were doing because they struck when it was rainy and cold outside, a time when bees are least active.
According to KHOU, this is far from an isolated incident. Harris County Beekeepers Association member Jennifer Scott told the station these kinds of thefts are on the rise because the creatures, who create pricey raw honey, are in short supply.
"Oh yes," Scott said. "Beekeepers are very careful now where they keep their bees, because bees are stolen."
The Mother Nature Network also reported on the hive stealing trend back in 2010.
Source: huffingtonpost
Remember yesterday's Russell Brand iPhone-snatching fiasco? Well he tweeted about it. He claims what he did was a tribute to Steve Job's memory by not wanting to see anyone use an iPhone irreverently. I must agree with you Russell, my old chap (that's the wine talking). Taking a picture of you does fall under "using an iPhone irreverently". I shall vow to never disgrace mine own iPhone with your picture.


Russell Brand
just kinda, sorta 'fessed up to the whole iPhone snatch and toss in New Orleans ... hilariously blaming Steve Jobs for the whole thing.
Brand just tweeted, "Since Steve Jobs died I cannot bear to see anyone use an iphone irreverently, what I did was a tribute to his memory."
TMZ broke the story ... Brand was accused of ripping an iPhone out of the hands of a paparazzo in New Orleans Monday night ... and then firing the phone at an office building ... shattering a window.
Cops said they were investigating the incident. Brand has since offered to pay for the window he broke.
In Royalty news, Prince Harry explains why he's still single. Like the Honey Badger, I don't give a sh*t about his reasons. Honestly, is it too much to hope that Prince Harry will marry someone soon who also has the MC1R mutation (yes we are mutants!) so he can start churning out some beautiful ginger babies?

On a completely, yet not altogether unrelated note, I saw a ginger man riding a bike today, and my first thought was... I sure hope his bike-riding is not hurting his little swimmers, so he can produce more gingers. Then I thought, "this can't be a normal thought process". I may have a mental illness. Possibly Gingivitis?

Prince Harry: Why I'm Still Single
Though women around the world are more than happy to prove him wrong, Prince Harry says it's hard to find prospective partners willing to put up with the demands of his royal lifestyle.
In an interview with CBS News about his recent tour through the Caribbean and South America (during which he feted Queen Elizabeth II's Diamond Jubilee), Harry admitted his life is a far cry from the fairy-tale people imagine it to be.
PHOTOS: Harry's hottest moments
"The job that [being a royal] entails--I mean look at me. I'm 27 years old," Harry told CBS. "And not so much searching for someone to fulfill the role, but obviously, you know, finding someone that would be willing to take it on."
PHOTOS: Check out adorable pics from William and Harry's childhood
Currently single, the busy prince's most recent serious relationship was with on-again off-again girlfriend Chelsy Davy, although the pair split ways for good in 2009.
Harry admitted that even his brother Prince William--who has happily settled into married life with Duchess Kate--still questions his contentment with his position in the spotlight. Said the prince, "There's a lot of times that both myself and my brother wish we were completely normal."
Source: usmagazine

And now, for today's FAIL...
Mayan Calendar FAIL. (apparently they didn't account for Leap Year)
see more
epicfails
And today's WIN!! I need this doormat! You guys know I'm so sick of politicians on both sides, I'm totally voting for Honey Badger 2012. Honey Badger don't give a sh*t. He'll get stuff done. He'll eat the heads off those cobra politicians. Join me and together HONEY BADGER CAN.


see more epicfails

Hey, WTF?!! I really, really don't want to ride with Hitler. I don't care if his main Nazi doctor is a distant relative of mine. (sadly, true story) I have no attachment to that "doctor" whatsoever. So... who will carpool with me? Twins anyone?


see more WTF Pictures and WTF videos by Picture Is Unrelated

And that's all the time I have for today. Sign up today for the Honey Badger Party (I think Steven Colbert is the nomination) if you haven't already. Oh, and one more thing...

They were required to play chess for the last scene of the movie. It was supposed to be one of the simplest but it ended up being one of the most problematic. It went something like this, the director Bryan Singer set up the chess table for them and asked them to play. Ian (Magneto) and Patrick (Xavier) just looked at each other and admitted they didn't know how to play.
The director just rolled his eyes and he brought someone to teach them. To their surprise it was a Canadian grand master! He taught Ian and Patrick the basic moves and ran them through the game rules. The chess player stayed all day and was excited to be on a movie set for the first time.
Bryan Singer couldn't believe he had hired two actors that didn't know how to play chess. At the end, Xavier wins the game. You can see the scene here