Worrisome Wednesday to you all, my little gingersnaps. Mr. G is working late again tonight, so I've consumed another bottle of wine by myself. If anything is misspelled or makes no sense from here on out, blame the wine. In the news, a cop (while on duty) accidentally broadcasted himself and someone else in his squad car doing the deed, the horizontal tango, bumping uglies.

So apparently not only could all his colleagues hear him, so could everyone listening on a police radio. What did you say? You don't yet have the 5-0 Radio Pro iPhone app? And all this time I've been listening to the Australian Police radio for entertainment. I should've been listening to Memphis!

Dion Anthony, Memphis Cop, Allegedly Broadcast Sex Over Radio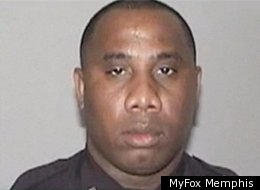 Here is some advice from Memphis, Tenn., Sergeant Karen Rudolph that might have saved a police officer accused of having sex in his squad car a bit of trouble:
"Anytime you communicate via a handheld or console microphone you want to remain professional."
That's what Rudolph told MyFox Memphis when asked about officer Dion Anthony, who is accused of broadcasting his on-duty sexual encounter over his police radio.
According to the station, not only could all on-duty officers hear what Anthony was allegedly doing, but so could anyone with a police scanner.
Anthony has been suspended and the audio recording has not been released.
ABC 24 in Memphis got reaction to the burgeoning scandal from local residents.
"I guess that's what they call working overtime," quipped resident Denett Davis.
Source: HuffingtonPost

In celebrity news, the actor who played Vincent Crabbe in Harry Potter has been sentenced to attend two years in prison for participating in London Riots last year. He was identified by video surveillance. I'm sure they had a split screen between Harry Potter and the surveillance. Crabbe was previously arrested for growing marijuana and has been found guilty of having a "violent disorder".
There's not a witch or wizard who went bad that didn't come from Slytherin. The sorting hat apparently sorted correctly.

'Harry Potter' Star TWO YEARS in Prison for London Riots

Jamie Waylett -- the guy who played Vincent Crabbe in the "Harry Potter" movies -- has been sentenced to spend TWO YEARS in a British prison for participating in the London riots last year.

As we previously reported, cops believed Waylett was packing a Molotov cocktail while looting champagne from a drug store during the London riots on August 8th.

Waylett was later identified by video footage after the incident ... and cops eventually arrested him on Sept. 20.

Waylett -- who has a previous conviction on record stemming from a drug-related incident -- was found guilty of violent disorder ... but he was acquitted on the charge of intending to destroy property with a fire bomb.

No word on when Waylett is expected to begin his sentence.
Source: TMZ

In other celebrity news, go out and buy Helena Ruminstein makeup because it is truly a makeup miracle. It can make anorexic, drug addicted Demi Moore, look healthy and youthful. Or... they have an over-active photoshopper. What do you think? Demi, I can't remember the last time you looked this good.

Demi Moore Is Gorgeously Unrecognizable In New Makeup Campaign
If Helena Rubinstein has a concealer that achieves this effect, then we'd like to purchase a cartload, please. Because as a product, it would be so useful. But as a makeup campaign, it's unbelievable. As in, we really can't swallow this, because it's just too … fake. And we are taking artistic license into consideration. It's not that we don't love Demi Moore! The actress has been signed on with the beauty giant for some time now, but these brand new ads make us want to say, "Where's Demi and what have you done to her?" Because that eerily flawless glamazon in this photograph — or in the photographs after the jump — is not her.
The fact of the matter is that Demi's been through one of the most stressful years, probably, in her whole life. She's become dangerously gaunt, been to rehab and is going through a split. Anyone would be feeling and showing the effects! We can't deny that these pictures are incredible, but they look like a fairy godmother (hi, digital team) has sprinkled a whole canister of magic dust on them. On the other hand, it's a long shot, but perhaps this is good for Demi? Considering she's going through a really nasty period in her her life, maybe it's great for her to look at these glamorous shots? You have to admit they'd bump up anyone's self-esteem! Perhaps these shots remind her that better days are around the corner.
[Photos: Global Grind/ Getty Images]
Source: thefablife

And now, for today's FAIL! Really, who wants to be reminded of the consequences of eating so many delicious hot dogs? I don't. Though I HATE scare tactics, I do buy the nitrate-free hot dogs now, only because they are the only hot dogs my 12 year will eat, after having them at a pool party. He thought they tasted great (Oscar Meyer) and so now I buy them. Which means now I won't be getting butt cancer. *whew*

Source: Gawker

And now, for today's WIN!! This is so true. I think the medical field is getting in the way of our natural selection with it's "put your babies on their stomachs" "cut your hot dogs in 4ths" rules. Now these weak babies grow up and and reproduce and produce more children who would choke on hot dogs. It's a never ending cycle. For the record... I never cut my hot dogs in 1/4ths and my kids never choked. They are survivors. They are the fittest. They would probably win in the "Hunger Games".


see more WIN - Epic Win Photos and Videos

Hey, WTF?! That's one way to avoid plumber's crack.


see more Poorly Dressed

And that's all the time I have for today... today's OMG fact makes me really sad. Inmates should not be allowed to adopt little kittehs. Unless of course I commit a crime and become an inmate. In that case, send me to that Indiana hospital and make it so inmates can adopt up to 10 kittehs. That's my final statement, until tomorrow, that is...

It's actually a very clever therapeutic program. The prison is a maximum security prison where 70% of the inmates are there for murder. Most of the people in the cat program have always been animal lovers, despite their complex human relationships.
The inmates attest to how much they love their cats and how the animals have helped them calm their anger and give them positive responsibility. The inmates cannot keep the cats if they get in trouble, and it has helped the inmates control how they express their anger. They now have something to lose if they lose their temper. Many of the cats come from the animal shelters in the area, so it's good for the cats too!
**Don't forget to hop on over to "Mommy Hates Chemicals" to check out our new review of Tom's of Maine Kid's toothpaste. Oh yes, there's a new video of the kids... Are you following us over there yet? What? Why not?!!