Wry Wednesday to you all, my little gingersnaps! I've got a little secret. *sing-songy voice* You'll find out tomorrow. (unless you follow me on Twitter and already saw my announcement in your feed) Twins, can you believe it? I'M KIDDING! Heaven forbid I should ever be entrusted to the care of another child... three is enough! I mean, I love my little angels.

What? You can't wait to find out the news? Okay, okay... tomorrow is my 2 year Blogoversary! And I'm doing a giveaway! Five of my favorite books! Woot!
Now on to the news... in California, a medical marijuana delivery man was robbed by ninjas! Or at least two men dressed as ninjas. Do ninjas smoke pot? I would think they have to stay alert, (and therefore no) but with California ninjas, all bets are off.

In unrelated news... my ninja costume is missing. Please let me know if you find it.

Ninjas Robbed Medical Pot Delivery Man?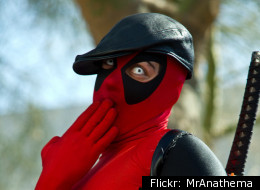 Police in California are on the hunt for two men dressed as ninjas who allegedly robbed a medical marijuana delivery man on Friday.
The man says he was set upon by the ninjas-slash-robbers while walking back to his car after making a delivery, and, in fear, dropped a bag of pot and cash that they grabbed.
So Alicia Silverstone just shared a video and announced to her fans that she chews her son's food and then feeds him by mouth... bird-style. Um... that is nas-with-a-capital-T. Alicia is a vegan and is raising her son as a vegan too. The video below shows her son Bear Blu (yes that's his name) and he doesn't seem as eager to take food from her mouth as she implies. In fact, he's doing the baby sign language for "all done". Oh, didn't think I knew that did you? (FYI: I taught all three of my kids baby sign language... it made for happy babies that could communicate before they could talk.)

I think by "all done" he really means, "hey crazy woman that gave me this stupid @ss name... stop feeding me with your mouth and posting videos on the internet... I'm already going to be teased enough as it is, being raised by freak hippie parents."

Or maybe he just meant he was full. *shrugs*

Alicia Silverstone Feeds Bear From Her Mouth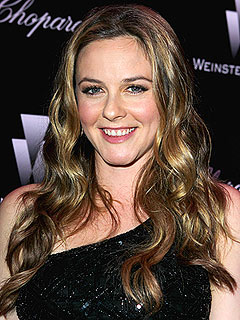 Jeff Vespa/Getty
Taste test!
Alicia Silverstone's little one is already learning how to share — at the breakfast table.
But no eating utensils, no problem: In the latest video posted on her website, the actress feeds her 10-month-old son, Bear Blu, mouth-to-mouth.
"I just had a delicious breakfast of miso soup, collards and radish steamed and drizzled with flax oil, cast iron mochi with nori wrapped outside, and some grated daikon. Yum!" Silverstone, 35, writes on The Kind Life, her online expansion to her vegan cookbook, The Kind Diet.
"I fed Bear the mochi and a tiny bit of veggies from the soup … from my mouth to his."

She adds: "It's his favorite … and mine. He literally crawls across the room to attack my mouth if I'm eating."
The video, she says, was filmed about a month or two ago "when he was a bit wobbly."
But that doesn't seem to be an issue anymore for Bear, who is her first child with husband Christopher Jarecki, whom she wed in June 2005.
"Now he is grabbing my mouth to get the food!" she writes.
Source: People

And now, for a palate cleanser. Ha ha, just kidding. You don't get that today. Let's all look at Steven Tyler's gnarly feet! Hey, if a man wants to get a pedicure with some crazy color, I'm all for it. Let's be silly. Let's be fun with color. Unless you're using color to draw attention to your gnarly feet. Then that's inappropriate use of color. I'm calling you out Mr. Tyler! Now cover those with something... crocs... anything!

Steven Tyler Gets Toe Up on His Birthday
Rockin' a J.Lo hat and shades, "American Idol" judge Steven Tyler celebrated his 64th birthday by flashing some blue nail polish painted mangled toes in Hawaii on Monday.

(Source: TMZ)

And now, for today's FAIL... It took me several minutes of staring at the picture before I figured out this woman is wearing pants. Those are several minutes I can't get back. I've never worked at Lowes, so I can't be certain, but I'm guessing skin-tight, translucent, flesh-colored leggings don't count as "pants" in the employee dress code.


see more Poorly Dressed

And today's WIN! Come on... that's a total tattoo WIN! Come with him if you want to live.


see more epicfails

Hey, WTF?!! Mountain Dew Dorito Cupcakes. I.... don't know. Would you try one?


see more WTF Pictures and WTF videos by Picture Is Unrelated

And that's all the time I have for today. Don't forget to come back tomorrow to enter to win one of 5 books in my giveaway! Oh and one more thing...

In America and Canada it may seem completely normal to leave milk and cookies for Sanata when he stops by on Christmas eve, but in most other countries the traditions are very different. In Ireland children leave a nice cup of Guinness, while in the Netherlands kids leave carrots and hay for his horse.
Some traditions may seem even stranger to some. In Germany they don't leave any food, but rather decorate letters with glitter and display them on windows for him to read, while in Denmark it is a tradition to make rice pudding called risengrød! Who knows which one Santa likes best, but I'm betting after such a stressful night, a break in Ireland wouldn't be too bad. Do you think you can top those? Tell us some of your Christmas traditions!