Facinorous Friday to you all, my little gingersnaps! Well, the Whitney Houston toxicology reports are back. Apparently it's not a good idea to take COCAINE right before you have a bath, when you already have marijuana, Xanax, muscle relaxers and Benadryl in your system. Whitney, what were you thinking?! Uppers and downers at the same time? And to think my dad (Monday's guest blogger, a doctor and Xanax-hater) was using Whitney's death as a reason for me to throw out my Xanax. I don't even mix my Xanax with Benadryl! And I don't even take baths anyway. #StepAwayFromTheXanaxAndNoOneGetsHurt
In the news, a California store clerk was shot in the butt during an altercation with would-be robbers. How does that even happen? Did the would-be robbers aim for his butt? Did he have a big butt? Cause that might have been a factor. Anyway, his wallet STOPPED THE BULLET. Not sure what he had in that wallet, but he needs to keep it on him. The suspects got away and are still at large.



Man's Wallet Stops Bullet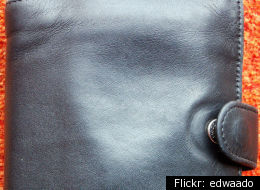 A Modesto, Calif., store clerk was shot in the buttocks during an altercation with would-be robbers, but his wallet saved the day.
Fox40 reports that the unidentified man's wallet kept his moneymaker from sustaining any damage.
Following the shooting, the unidentified three suspects fled the scene in a silver or gray Honda, News10.net reports. The suspects are currently still at-large.
This isn't the only time unexpected objects have played a life-saving role when guns start firing.
MSNBC reported on an incident in Indianapolis in which bullets were stopped by a watermelon and a bible.
And just last month, a Kentucky police officer's badge kept a bullet from causing serious damage, according to Fox News.
(Source: huffingtonpost)

Hilary Duff and her Hockey player husband had a baby boy and named him Luca Cruz. Wait, it's a boy, right? Named Luca? That kid is not going to get teased at all. "His name is Luca... he lives on the second floor....He lives upstairs from you... don't make fun of his girly name or his Hockey Playing daddy will throw you down the stairs."

Luca Cruz Comrie: Hilary Duff's Baby Boy!
Hilary Duff and Mike Comrie are the proud parents of a baby boy named Luca Cruz Comrie!
Luca was born Tuesday evening (March 20) and weighed 7 lbs., 6 oz. He is the first child for the 24-year-old actress and NHL alum.
PHOTOS: Check out the latest pics of celebrity babies
"We are overjoyed and feel like the luckiest parents in the world," Hilary wrote on her Twitter account.
"He is surrounded by so much love!! Mom and baby are both doing extremely well," Hil continued.
Congratulations to Hilary and Mike!!
Source: JustJared

Uh oh, the Twilight generation is reading Bram Stoker's Dracula. Wait, you mean it's not as well written as Twilight? I want my money back!


see more epicfails

And now for today's FAIL! Someone isn't teaching the English kiddies American history. (the last line is classic)


see more epicfails

And today's WIN! (sidenote: my 12 year old Lego obsessed son just asked me to make him this cake for his next birthday. I told him no, but I could probably find a bakery to make it for him FOR HIS WEDDING. He then informed me he it would be for a wedding... to the frosting on his tongue! *sigh* I haven't been able to win at logic with this kid since he turned 2.)


see more WIN - Epic Win Photos and Videos

Hey, WTF?!! This is the Asian version of a Mullet. Business in the front, party in the back. (FYI this would've been a WIN! if it was say... Gerard Butler or Hugh Jackman wearing this outfit)


see more Poorly Dressed

And that's all the time I have for today. Have a razzle dazzle weekend and don't forget to keep your wallets on you, you know... in case of bullets. And for heaven's sake, never mix cocaine with marijuana, Xanax, muscle relaxers and Benadryl before taking a bath. Until Monday then...

Human saliva contains a natural painkiller called opiorphin. Due to its powerful painkilling ability, scientists are trying to synthesize a new natural painkiller from opiorphin. It is great, because it doesn't have the same addicting attributes that morphine does and would work better with the body.
In a study, 1 milligram of opiorphin gave the same results as 3 milligrams of morphine did. In another study, involving rats standing on pins, they needed 6 times more morphine than opiorphin to make them oblivious to the pain.
Opiorphin works in the nerve cells of the spine. It stops the usual destruction of natural pain killing opiates in the spine called enkephalins. It is such a simple molecule, that scientists believe it'll be possible to synthesize it and produce large quantities of it without needing to isolate it from saliva. Another approach is to find a drug that will make the body produce more opiorphin to manage pain.