Moronic Monday to you all, my little gingersnaps! How was your weekend? It rained here in Los Angeles this weekend, giving me PTSD flashbacks of growing up in Florida. Whoever said it never rains in Southern California should be... dealt with very, very harshly.
In other news, how does your man tell you he loves you? He puts a ring on it. Ladies, does your man love you enough to put a 68 million dollar ring on it? How about the world's first all-diamond ring! That's right... the entire ring is made of diamonds. Is it bad that my first thought is... awwww they had to cut out the middle of what would've been a REALLY huge diamond! And my second thought was... what size did they make it? Cause size 6 would be PERFECT for me. #justsaying
Yes... I saw the movie "Blood Diamond". Yes, I have an African daughter... but look how shiny it is!!!! (my daughter was never a diamond miner so it's okay)

If He Loves You, He'll Buy You the World's First All Diamond Ring
How many of you saw "The Hunger Games" this weekend??? What did you think? Did you like it? You know what I thought of it? Since the author of the book actually wrote the movie screenplay, I thought it was one of the best book to movie transitions I've seen. I loved it. But I think if you haven't read the book, you might not enjoy it as much as those who read it. Hey people who haven't read the book: GO READ IT NOW! You can easily knock out the book in one day and still catch the movie while it's in the theater. Do it. NOW.

'The Hunger Games' Tops Box Office
The Hunger Games, based on Suzanne Collins' bestselling novel and starring Jennifer Lawrence, Liam Hemsworth, and Josh Hutcherson took in a whopping $155 million in its opening weekend. This number brings the hit film in at the third largest opening weekend in history!
This weekend's earnings also made The Hunger Games the number one grossing film in the history of its studio, Lionsgate!
Channing Tatum and Jonah Hill's comedy 21 Jump Street took second place, bringing in $21.3 million this weekend.
Third place went to Dr. Seuss' The Lorax, which features the voices of Taylor Swift and Zac Efron. The animated movie brought in $13.1 million this weekend.
Fourth place went to Taylor Kitsch's John Carter, which earned just over $5 million. Act of Valor came in 5th this week, with $2 million.
Source: JustJared

Apparently, they also showed the trailer for "The Host" before the "Hunger Games" movie. I missed the trailer. You want to know why? Because I was stuck behind an ice cream truck in my neighborhood that was driving down the middle of the street at "very slow" miles per hour and refused to let me pass. Oh yes, he could tell I was there by the frequent looking at me in his mirror and the fact that my front bumper was approximately 2 inches from the back of his stupid ice cream truck. I made up for the lost time by cutting off an ambulance. #truestory

So I did get there in time for the movie, but missed the previews, except for the last preview, which was "What To Expect When You're Expecting". It looks hilarious. And I bet it will sound pretty damn good since a certain ginger (not saying who) has a husband who is now mixing the sound effects for the movie. *wiggles eyebrows*
Now, back to "The Host". Did anybody read this book? Did anyone like this? All my book buddies who read, "Twilight" told me to skip it, so I did. Even my most trusted Book Sensei (and co-founder of "Mundie Moms") said she used it as a doorstop. Leave it to Stephanie Meyer to give us a love triangle between two people.

And now for fake celebrity news... Jersey Shore's Vinny says he thinks Snooki will be a good mom, now that she is expecting a baby. Well, if Vinny (first hand witness to all of Snooki's hookups and drunken escapades) thinks she'll be a good mom... who am I to argue?

Originally posted 03/25/2012 04:30PM
Make no mistake – now that she's pregnant and engaged, Nicole "Snooki" Polizzi's partying days are on hold as she prepares to become a mother, according to her Jersey Shore castmate, Vinny Guadagnino.

"She'll be a great mom. She's already drastically changed her life," Guadagnino told PEOPLE at Saturday's 23rd Annual GLAAD Media Awards in New York. "I think this is a good wakeup call, so I think she'll be cool."

He also revealed he was surprised by the news she's expecting.

"I had no idea. Actually people would call me, like, 'Is the show still gonna work?'…And I was like, 'What are you talking about, she's not pregnant.' And then all of the sudden, that whole thing came out and I was like, Oh my God."

Source: People

In related news, Snooki is preparing for her upcoming baby by going out in public, practicing with a baby doll. Cause, I'm sure that will totally prepare her to be a mom. *shakes head no*

Snooki Practices for Motherhood – with a Doll!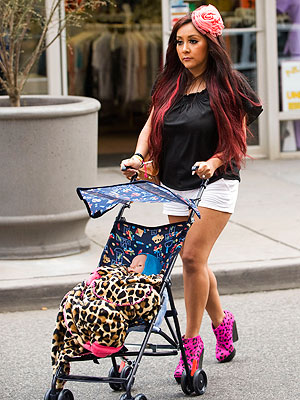 Mom-to-Be
Nicole "Snooki" Polizzi appears to be practicing for her baby's arrival by borrowing a page from Home Economics 101.
Snooki and her BFF Jenni "JWoww" Farley, who are co-starring in a
Jersey Shore spinoff
, were seen out and about in Jersey City, N.J., this week – each with a doll in tow. The roommates purchased strollers for their practice infants and later went to a children's clothing store to buy outfits.
Snooki was later photographed holding her doll, which was draped in a cheetah-print blanket, and pushing it around the city in the new stroller.
In other fake celebrity news, Kim Kardashian, who was assaulted with flour at her fragrance unveiling by a woman who called her a "Fur Hag", has decided to press charges. It is unclear whether the term "fur hag" referred to her use of animal fur clothing, or the fact that she is Armenian, and therefore, hairy.

Kim Kardashian Pressing Charges Against Flour Tosser


Kim Kardashian has decided she will press charges against the woman who threw flour on her at an event Thursday night ... TMZ has learned.

Sources close to Kim tell TMZ she does not feel the woman who threw the flour at her should get away with it and that she should be held accountable for her actions. According to our sources, Kim didn't press charges that night because she didn't want to take herself away from the event, which was for charity.

We're told Kim will contact law enforcement in the next few days to tell them she wants to press charges. According to our sources, Kim wants to send the message that people are entitled to their opinion, but should not resort to violence.

The decision to press charges represents a change of heart for Kim, who told TMZ Live yesterday she was wasn't going to pursue the matter.
Source: TMZ

And now, for today's FAIL!!! I wonder at what moment that dude realized he would have to remove all that duct tape.


see more Poorly Dressed

And today's WIN!!!


see more epicfails

Hey, WTF?!! I hate it when I fall down and that happens.


see more epicfails
And that's all the time I have for today. Find out what size that all-diamond ring is, and until tomorrow...

And no, not just for that first thing that popped into your mind. Advocates for showering with cold water say that it has a lot of health advantages. One of the things that it does is force the body to generate its own heat, in a process called thermogenesis.
When you go right into a cold shower, you experience cold shock. It actually makes your heart pump blood faster, and you also increase your breathing rate. This is what generates Thermogenesis. It activates the body's adaptive repair system. That can strengthen immunity, enhance your pain and stress tolerance and ward off depression. Some people even say it's a good anti-aging technique.