Wobbly Wednesday to you all, my little gingersnaps. In the news, a woman and her 11 year old son got in a verbal altercation which then resulted in a most vicious attack by her son to the mother's face via pop tart. Yep, he slapped her in the face with a pop tart. She was treated at an emergency room for sustained injuries. Uh... wait a minute. My kids eat pop tarts. (#motheroftheyear) Was it a toasted or untoasted pop tart? What flavor was the pop tart? Iced or plain? Can you even hurt someone with a pop tart before it breaks?

I'm thinking... if a woman goes to the emergency room because her son hit her with a pop tart, she probably deserved to be whacked with that pop tart.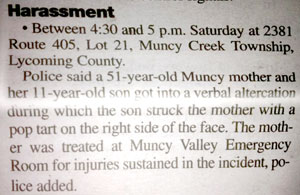 A Lycoming County woman was treated recently for injuries sustained from being slapped with a pop tart. The Muncy resident, 51, was involved in a "verbal altercation" with her 11-year-old son, during which he struck her with the rectangular, pre-baked toaster pastry. [hyprstryke via Copyranter and This Isn't Happiness]
Source: boingboing

In fake survivor expert news, Bear Grylls has been fired by the Discovery Channel for refusing to participate in two projects he was already contracted to do. I guess the one thing he couldn't survive was his ego. I'm personally surprised he lasted as long as he did after it was exposed (and he confessed) that he & his crew were staying at five star hotels at night after filming each day. Not even his British accent could redeem him to me after that fiasco, and that's saying a lot if you know how I feel about British accents. He can always look on the bright side though... his urine-drinking-to-survive days are over.

Bear Grylls FIRED By Discovery Channel!

For the first time in his career, "Man vs. Wild" star Bear Grylls has failed to survive ... at the Discovery Channel -- because the network just fired him.

A rep for Discovery tells The Hollywood Reporter, "Due to a continuing contractual dispute with Bear Grylls, Discovery has terminated all current productions with him."

Sources tell THR, the relationship came to a screeching halt after 37-year-old Grylls refused to participate in two mystery projects he was contracted for.

Grylls originally partnered with Discovery in 2006 when "Man vs. Wild" premiered on the network. So far, no word on Grylls' next move ... though it will probably somehow involve him drinking his own urine.
Source: TMZ

In surprising celebrity news, Peter Facinelli and Jenny Garth have decided to end their marriage. (always sad when kids are involved)

I'm going to side with Peter on this one for a number of reasons.

1. Jenny is not the nicest of people. (or so I've been told by an unnamed source that most of you can probably figure out)

2. Peter is seriously a very nice guy.

3. He was the first celebrity to ever follow me on twitter. I could never forget my first! I didn't really deserve it though. A few years ago he promised to follow back a handful of fans who worked hard to help him reach 500,000 follows on Twitter and honestly all I did was write with a sharpie on the back of my (now dearly departed) naked kitty & tweet the picture. No, the sharpie didn't kill her!! Apparently the picture made an impression because he chose me over some of his more vocal supporters. (sorry other PFach supporters, that you didn't have a naked kitty to write on too).

Peter Facinelli and Jennie Garth have split, a rep for the actor confirms to JustJared.com.
The 38-year-old Twilight actor and his 39-year-old sweetheart, best known for her role on Beverly Hills, 90210, were married for 11 years before deciding to divorce.
"While we have decided to end our marriage, we both share the same deep love and devotion to our children," the couple said in a statement. "We remain dedicated to raising our beautiful daughters together. We ask for privacy and respect during this time."
Peter and Jennie are the parents of three daughters: 14-year-old Luca, 9-year-old Lola, and 5-year-old Fiona.
Us Weekly was the first to report the split.
Source: JustJared

In other news, Russell Brand has had a police report filed against him after a paparazzo claims he snatched the iPhone out of his hand and threw it through a window. I have two things to say about this...
1. Russell Brand- Please ask your doctor for some Xanax. Xanax is your friend. It's what keeps me from picking up my kids and tossing them through a window like you did to that poor man's iPhone.

2. If taking a picture of a celebrity with an iPhone makes one a "paparazzo", I'm seriously in trouble. Though I must say I'm quite the expert at the ninja-pic technique, with the assistance of the "SneakyPix" iPhone app. Seriously, it looks like you're on a phone call with a person named, "George" if you look at the screen, but it will take a picture every 4 seconds. So all you need to do is start the app, put your phone up to your ear, pretend to listen to your call and aim your camera at the celebrity. You're welcome. FYI: SneakyPix is not only for taking pics of celebrities. It also comes in handy when you encounter a poorly dressed individual (say, when you're shopping at Walmart) who's picture your dying to take and tweet to all your followers.

Russell Brand
has been named in a police report in New Orleans ... by a paparazzo who claims the actor snatched his cell phone out of his hand and fired it through the window of a nearby building ... TMZ has learned.
Sources tell TMZ ... a photog named
Timothy Jackson
filed the report, citing "criminal damages" over an incident that went down Monday night.
Jackson told cops he was with a group of photogs ... when he began to shoot Brand with his iPhone from his car. Jackson claims Brand flipped out, wrestled the phone out of his hand ... and then Nolan Ryan'd it at a nearby building, shattering a glass window.
The pap immediately filed a police report. No word if he got his phone back.
Calls to Brand's rep have not been returned.
Law enforcement tells TMZ ... cops are investigating the incident and would like to speak with Brand ASAP.
Source: TMZ

You may have heard of the Sprinkles new 24 hour cupcake ATM in Beverly Hills, but have you seen it in action? Check it out! Oh and if anyone lives in the Beverly Hills area and wishes to make a midnight delivery to The Valley, I'll take the Chocolate Marshmallow Cupcake. Thank you in advance.

And now, for today's FAIL! No me gusta demon-possessed Dora. #scary


see more WTF Pictures and WTF videos by Picture Is Unrelated

And today's WIN!!


see more epicfails
Hey, WTF?!! Why are there only black cats allowed? Is this some form of segregation? My ginger kittehs are feeling left out.


see more WTF Pictures and WTF videos by Picture Is Unrelated

And that's all the time I have for today. Don't forget to pick up your very own Demon Dora for your kids' Easter baskets this year! Oh, and one more thing...

A man paid $1 million to be in a Lady Gaga video!

In Lady Gaga's music video, "Alejandro" an extremely wealthy fan paid the star 1 million dollars to be in her video! We're not sure of his name, but rumor has it that he is a Moscow based billionaire that goes by the nickname, "Arkady."

This 30 year old Lady Gaga fan was so obsessed with the star that he offered to pay her so that his love for her would be immortalized in one of her videos. He can be seen wearing SS like attire and black leather in a quick shot.

(Source)