Tangential Tuesday to you all, my little gingersnaps. Do I still have readers after you got a little taste of my crazy pedigree yesterday? *crickets*
So.... you know you have a drinking problem when you crash into a rehab center while drunk driving. That's what Damien Bittar did approximately 90 minutes after he turned 21. (celebrating much?) He tried to run away but was caught & arrested. Damien, when you get released from jail, perhaps you should have someone drive you back to that rehab for some R&R. You really started off your 21st birthday with a bang. Too much of a bang.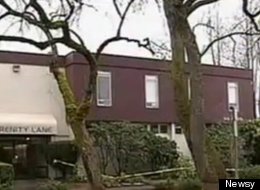 One of the first signs you might have a drinking problem is when you crash your car into a rehab facility.
That's allegedly what happened in Eugene, Ore., to Damien Bittar on Thursday about 90 minutes after he turned 21 -- the legal drinking age -- according to the Register-Guard.
The crash happened at about 1:30 a.m. and luckily limited damage mainly to the landscaping of substance abuse center Serenity Lane, according to KEZI.
Eugene police say Bittar tried to ran away before they arrested him, KPIC reported.
Bittar was charged with DUI, reckless driving and second degree criminal mischief. HIs 1997 Chevy Malibu was impounded, KPIC said.
Dirty Jobs star Mike Rowe can breathe a dirty sigh of relief after the lawsuit against him has been thrown out. Apparently the hunky Discovery Channel star was being sued by a member of our lovely prison system by the same name. Prison Mike was suing Hunky Mike by saying that because of Hunky Mike's show, Prison Mike has been taunted by his fellow inmates as being "dirty", and that it's made his life a living hell. Oh, poor baby... he's miserable while in prison. Prison Mike also claimed he had copyrighted his name. *rolls eyes* The judge threw out the suit because you CAN'T. COPYRIGHT. YOUR. NAME. Idgit.

When it comes to a fight between Mike Rowe and Mike Rowe -- Mike Rowe ALWAYS wins.

TMZ broke the story ... a non-famous man named Mike Rowe (right) -- formerly incarcerated in a South Dakota prison -- filed a lawsuit against THE Mike Rowe from "Dirty Jobs" ... claiming Rowe's use of the name on TV made him the laughing stock of the prison system.

In the lawsuit, Rowe (ex-prisoner) bellyached that his life behind bars had become a living hell because of his name -- insisting, "I can't live here in prison without being called Dirty Jobs or ... Dirtiest Man."

Ex-prisoner Rowe -- who was serving time for a DUI bust -- also claimed he had copyrighted his name to protect it ... and TV Rowe violated it.

But a judge didn't buy Rowe's case -- shocker -- tossing the non-famous Mike Rowe's lawsuit out of court ... because you can't copyright your name.

And now, for the cutest thing you'll probably see all day... Two year old Makena singing Adele...
Moving on, someone invented tents that look like food. Sounds like a good idea, even looks like a good idea. But when you're camping, you really don't want to make the place you're sleeping look like food. (or at least I don't) Because, you know... BEARS. I know this because we go camping at Yosemite every year. And by "camping" of course I mean we rent a house inside the park that has it's own master bath.
FieldCandy makes Yummy, a great line of colorful camping tents that look like real food, like a watermelon, a sandwichor a wedge of cheese. Be sure to take a look at all of their cool tent designs.
If you're in need of some attention at your next campout, or would like to proclaim your food love to your fellow scout leaders – Field Candy is here to help. The UK-based tent designer has a full line of creative camping tents — from animal prints and commissioned art, to various foodstuffs.
via Foodiggity and Food Republic
images via FieldCandy
And now, for today's (Assorted Goods) FAIL! Well that doesn't sound tasty at all.

see more epicfails
And today's WIN!! Actually I saw a program on these three. They've been together in the same enclosure at a wildlife center since they were babies and are all friends... and clearly I watch way too much Animal Planet.

see more Lolcats and funny pictures, and check out our Socially Awkward Penguin lolz!
Hey, WTF?!! Do you think this was a shotgun wedding? Sometimes "unique" isn't always a good thing.

see more Poorly Dressed
And that's all the time I have for today. Excuse me while I run off and attempt to copyright my name. In the meantime, watch out for bears, oh and one more thing... (Spank, stop reading!)
For many of us it's completely normal that traditional bubblegum is pink, yet have you ever thought why that was? It all goes back to 1928 when Walter Diemer, an accountant for the Fleer Chewing Gum Company in Philadelphia, was attempting to create new gum recipes.
He discovered a recipe that was less sticky than regular chewing gum while also more stretchy, yet he didn't like the color it was so he used the only coloring he had on hand, which was pink! When he began selling his new gum, which was and still is named Dubble Bubble, it was an instant success and the color just stuck