Wobbly Wednesday to you all, my little gingersnaps. Did you have a nice Valentine's Day? Or did you listen to Adele, stare in the mirror and cry like this?
I'd like to give a little shout out to my anonymous admirer who sent this tweet to me yesterday. Thank you! You totally made my day! *beaming*

@gsnaps Ooh la la, you are a "wondrous ginger marvel, breathlessly beautiful & full of class."- an admirer bit.ly/wQMpva #officecupid
Apparently at 6pm tonight in Los Angeles there will be a 1000 car horn symphony. Applicants were assigned scores based on the pitches of their car horns. Since this is the first I've heard of it, and I have no idea where my car horn falls on the pitch scale, I think I will just drive around LA at 6pm blaring my horn indiscriminately. You know, just to participate and show my LA spirit.
Uh, doesn't the sound of blaring horns usually cause stress and anxiety in others? If you have an anxiety disorder, perhaps you should stay home tomorrow at 6pm. Otherwise, go find yourself a nice tunnel to park under and join in the fun.

1000 Car Horn Symphony in Los Angeles
on
Artist Zefrey Throwell is hosting the "1000 Car Horn Symphony" tomorrow, February 15, at 6:00 pm in Los Angeles. Applicants will be assigned scores based on the pitch of their car's horn.
Using the Janus of Los Angeles as the instrument most perfectly tuned to sing the song of its citizens, 1000 car horns will ring out in a symphony composed to bring forth the passion of the city of angels. For five minutes, from San Pedro to Silver Lake, the lifeblood of LA will ring out in harmony, bringing the city together in seraphic sound as it is used as a resonating chamber and becomes the grand horn of its people.
Source: laughingsquid

So you guys remember Chris Brown, right? The guy that did this to Rihanna's face. Well some people are criticizing that he was asked to perform at the Grammy's as well as winning a Grammy. There has been a backlash on blogs and in twitter. Chris Brown's response? He says, "HATE ALL U WANT BECUZ I GOT A GRAMMY. Now! That's the ultimate F*CK OFF."

Which just goes to prove that even the biggest of douchebags can win a Grammy.

Chris Brown Says 'Hate All You Want Because I Got A Grammy'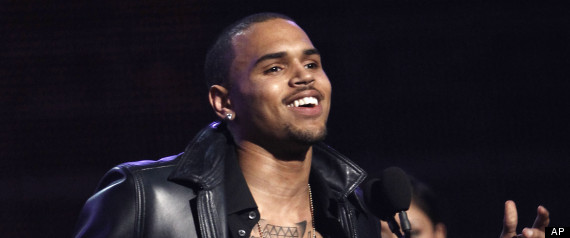 In the wake of Whitney Houston's passing, Chris Brown avoided intense media scrutiny surrounding his return to the Grammy Awards. As he bounced around on stage and picked up the award for Best R&B Album, it was also the three-year anniversary of Brown's assault on then-girlfriend, Rihanna.
While there were some insensitive fans who trivialized domestic violence and seemed to welcome a punch in the face from Brown, others were not so happy to see him welcomed back into the spotlight or awarded for anything.
Warning: contains graphic language
Celebrities like Miranda Lambert, Jack Osbourne, Michelle Branch and Eric Stonestreet expressed their dismay at seeing Brown honored.
Actor Wil Wheaton perhaps said it best when he tweeted, "Everyone who apparently forgot what Chris Brown did to Rhianna should read the police report on exactly what he did."
Those comments didn't sit well with Brown, who responded by tweeting, "HATE ALL U WANT BECUZ I GOT A GRAMMY. Now! That's the ultimate FUCK OFF."
Brown later deleted the tweet, but not before Mashable editor Christina Warren took a screen shot of the offending tweet.
Either Brown or his handlers must have realized that it's probably not the greatest move to appear so cocky about his acceptance back into the recording industry's good graces.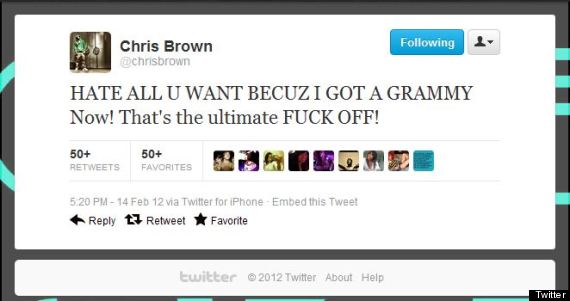 Source: huffingtonpost

Speaking of douchebags... anyone recognize who this is? If you guessed Jean-Claude Van Damme, you are correct. (I thought it was Billy Bob Thorton with prosthetic muscles) JCVD (I'm not typing out his long-@ss name again) is in Puerto Rico filming a thriller called "Welcome to the Jungle". Yeah, uh... I think I'll skip that one. I'm a little disappointed to hear he's going to be in Expendables 2 because I'm definitely seeing that one. Hopefully he gets blown up.


Jean-Claude Van Damme shows off his biceps in a black tank on the set of Welcome to the Jungle on Tuesday (February 14) in Puerto Rico.
The 51-year-old action star looked almost unrecognizable donning a large mustache and sideburns.
Welcome to the Jungle centers around a company retreat on a tropical island that goes terribly awry.
The thriller, set to be released sometime in 2013, co-stars Adam Brody and Dennis Haysbert.
Later this year, Jean-Claude can be seen in The Expendables 2 opposite Sylvester Stallone, Jason Statham, Bruce Willis, Arnold Schwarzenegger, and Liam Hemsworth.
Source: JustJared

And now, for today's FAIL... guess the Maury Povich show is running out of ideas for shows. Seriously?!


see more epicfails
And now, for today's (dating) WIN!!!


see more WIN - Epic Win Photos and Videos
Hey, WTF?!!! Why are they covering their faces? Is it dusty? Is balancing in a seemingly impossible way over another dude illegal and they need to protect their identities? Are they planning to rob a bank after this?


see more WTF Pictures and WTF videos by Picture Is Unrelated

And that's all the time I have for today. Don't hesitate to toot your own horns today, and until tomorrow, here's something you should know.

Hercules, one of the most popular Disney movies of all time, was released in 1997. Roughly based on Greek legends, the story follows the young son of Zeus as he attempts to become a god like his father.
However, what is odd about the movie is that Hercules is the only character with a Roman name! Disney named all the main characters after their Greek counterparts from mythology, such as Zeus, Hades, and Pegasus, yet refrained from naming Hercules his Greek name, Herakles. Disney claimed the name was more recognizable among fans.