Tampered Tuesday to you all, my little gingersnaps. A Long Island husband and wife were enjoying an unseasonably warm afternoon on their deck when the wife was pelted with some dark spots from the sky. Thinking it was raining, the husband quickly realized it wasn't and hoped the drops all over his wife, deck and BBQ were hydraulic fluid from the plane flying over. The FAA later admitted that it was, in fact, some lavatory excrement that had leaked out from the plane while flying over. And you thought bird crap was the worst that could land on you.

Long Island Couple Miffed After Airplane Dumps Possible Human Turd Droplets On Them
Last Thursday, Artie Hughes was out on his Long Island deck with his wife, relaxing and enjoying the unseasonably warm weather, when suddenly shit from an airplane lavatory rained down on their faces.
Yes, this is one of those stories that makes you realize there is something else entirely to fear out there. Bird shit is no longer the worst possible shit-raining scenario, because now human shit is raining from the sky, too:
"A plane was coming over. Next thing you know she says 'Oh my God it's raining.' I said 'No it's not'," Artie Hughes told 1010 WINS' Sonia Rincon.

"Some black liquid, black oil came off on her face, and I walked around and I looked and said 'Oh my God.' There was quarter-sized, nickel-sized, dime-sized drops all over my deck, my barbecue, my table," he said.
Hughes, who thought that the "blackish-greenish oil" might be hydraulic fluid, called the police, and an office contacted the Federal Aviation Administration. The FAA, Hughes says, acknowledged that there had been an incident and that "some lavatory excrement had leaked out."
Onto the Hughes' faces. Ah, the miracle of flight.
[1010 WINS, Image via Shutterstock]
Source: gawker

In celebrity news, it is apparent that Angelina Jolie's stylist informed her that she should stick her leg out as much as possible during the Oscars to take advantage of the slit in her dress. Here are the 10 best pictures of Angelina doing just that, which instead of looking incredibly sexy, just reminds us that the actress needs to eat a hamburger.

The 10 Best Pictures Of Angelina Jolie's Right Leg
Angelina Jolie's right leg is the breakout star of this year's Academy Awards. Here are the 10 best pictures of it.
1.
2.
3.
4.
5.
6.
7.
8.
9.
10.
Source: buzzfeed

Speaking of eating hamburgers, the incredibly pregnant Jessica Simpson is out in force and STILL wearing high heels. Jessica. Give up the heels and thank your lucky stars you haven't already fallen flat on your face with your loose ligaments and unbalanced weight.

Pregnant Jessica Simpson Flaunts Giant Baby Bump In Beverly Hills (PHOTO)
Talk about a baby bump! A very pregnant Jessica Simpson was spotted out in Beverly Hills over the weekend, rocking some serious high heels with her ready-to-pop belly on full display.
You have to give the girl props -- many women have trouble walking in high heels under normal circumstances, let alone while being several months pregnant.
Though Simpson has stayed mum on whether she and fiance Eric Johnson will soon be welcoming a boy or a girl into their family, the singer was reportedly spotted picking up some pink baby gear recently. While the mom-to-be is anticipating her bundle of joy's arrival, she has also admitted she's looking forward to getting back into pre-baby shape.
"New goal: look like @jessicaalba after baby. Job well done lady!" Simpson tweeted earlier this year, later writing, "Looking forward to getting back into Daisy Duke shape ... I forget what having a waistline feels like!"
As Simpson gets closer and closer to her due date -- she revealed a few months ago that she's due "in the spring" -- she's also getting ready to enter another new stage in her life besides motherhood. Her new TV show, "Fashion Star," premieres on NBC on March 13.
Check out a photo of Simpson, as well as other photos from her pregnancy below: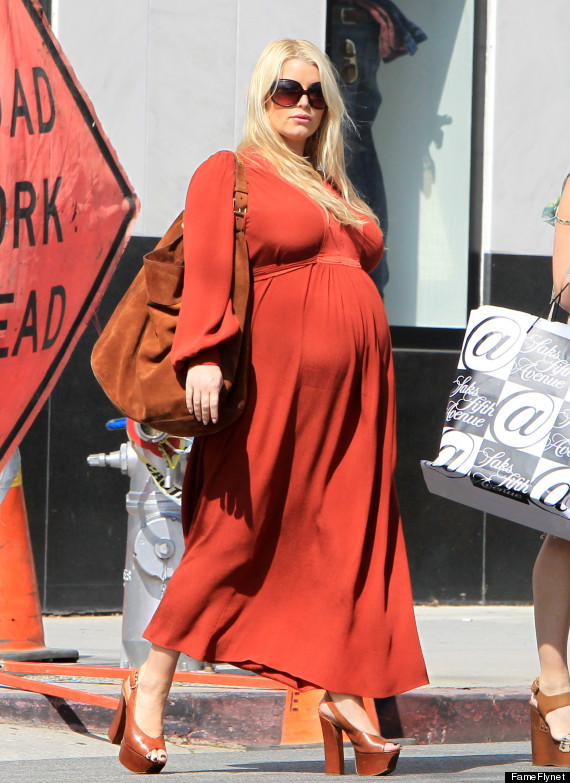 Source: huffingtonpost

And now for today's FAIL... or is that today's WTF? I think it can qualify for both.


see more epicfails
And for today's (luxury vehicle) WIN!


see more WIN - Epic Win Photos and Videos
Hey, WTF??!! I don't remember which teletubby this one is, but to be fair, I was so freaked out by all of them, I never watched the show. I think this is pedobear teletubby.


see more WTF Pictures and WTF videos by Picture Is Unrelated

And that's all the time I have for today. McDonald's gave new meaning to the term "Happy Meal" when it accidentally distributed condoms in 5000 Happy Meals. Perhaps it should've distributed one of those happy meals to Zac Efron. Until tomorrow then, keep out of the pathways of leaking airplanes, and I'll meet you back here tomorrow same time, same place.

Apparently there was a mix-up at the distribution center and condoms that were supposed to be shipped to a Massachusetts school were accidentally packaged in McDonald's Happy Meals!
The incident caught news attention when over a dozen eight year olds opened their happy meals to find condoms. The children reportedly blew them up and began batting each other with them. McDonald's apologized for the incident claiming the condoms were extremely bright colors because they were to be sent to a school, and most of their workers couldn't read the English label, failing to recognize the difference.