Taunting Tuesday to you all, my little gingersnaps. No one shared any practical jokes they pulled on other people in yesterday's comments? You're killing me Larry! You people want all the reading without all the sharing. That's okay. Just means you don't get to hear my best, super awesome/kind of mean practical joke. *wiggles eyebrows*
There are Rolling Stones inspired urinals at a Rolling Stones Memorabilia Museum in Germany and a lot of German women have complained saying their degrading to women, blah, blah, blah. What I'm wondering is... why are these women in the men's bathroom anyway? Ladies... STAY OUT OF THE MEN'S BATHROOM. #ProblemSolved
Source: TMZ

If you haven't yet seen the return of Ferris Bueller in the new Honda CR-V commercial, then you MUST. WATCH. NOW. It's genius. I love that he visits the Los Angeles Natural History Museum (which we LOVE). Enough talking... go watch!

Was anyone else wondering what that was dripping down Christina Aguilera's leg during her performance at Etta James' funeral on Saturday? O_o Now the mystery is solved, as Christina says it was her spray tan that was dripping. Oh I hope she's telling the truth.

*finds a soapbox, then steps on it* Why does she need a spray tan anyway? Why can't we accept the paleness? Tell me, my friends... what is so wrong with being pale? (other than gingers like me needing SPF 100 for any sun exposure lasting longer than 20 minutes) Pale is the new black! Okay I totally made that up. But if you're pale, embrace the light. (see what I just did there?) Then you won't find yourself singing in front of an extremely large group of people with dark streaks running down your leg while people speculate where the streaks are coming from. *steps down and moves on*

Christina Aguilera's Mysterious Leg Drip Was Due To Spray Tan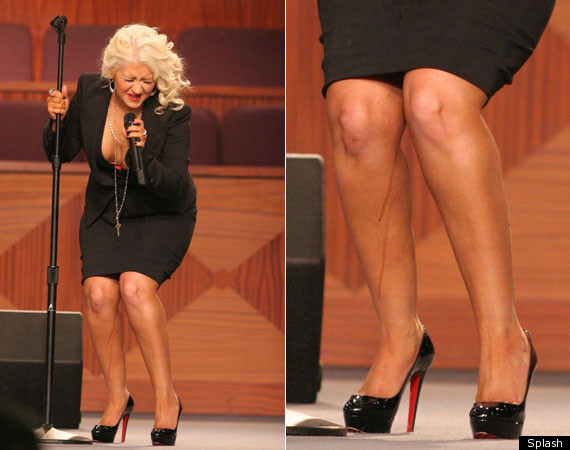 What on earth was dripping down Christina Aguilera's leg during her performance at Etta James' funeral on Saturday?
While Twitter and gossip websites may have joked otherwise, the official word is that fake spray tan was to blame for the mysterious dark liquid that dripped down her right leg while belting out "At Last." The 31-year-old "The Voice" judge was clad in an otherwise demure black skirt suit and appeared unfazed by the accident, perhaps because she was focused on the more important task of commemorating her music idol, James, who passed away on January 20th at age 73.
Source: huffingtonpost

Hey, What's that film...

see more epicfails

And now for today's WIN!

see more epicfails

Hey, WTF??!! There is so much wrong with this, I don't even know where to begin. Why is she in her undergarments? Why not in a bathing suit? Why does he need to be shirtless? Why is the baby in a breech position? Who thought this was a good idea? WHY?????????

Source: AwkwardFamilyPhotos
And that's all the time I have for today. Today's assignment is... STICKY. Do it and report back. Until tomorrow, here is something you should know...

Apparently his grandmother misspelled the name LaBoeuf, which means "The Beef" in French. Shia comes from the Hebrew "Gift from God," So if you combine it, you can translate his name into "Thank God for the Beef." He also told People Magazine that Shia isn't well received in France, because it sounds similar to the French "chié" which means "shat." So in France his name sounds like "I shat the beef!."
LaBeouf began his acting career after seeing a friend of his on "Dr. Quinn Medicine Woman." He decided he wanted to become an actor, spoke to his mom, and the next day he picked out an agent in the yellow pages. He auditioned for the agent and they signed him right then! His parents were part of the circus while he was growing up. He's known for his role in Even Stevens on the Disney Channel, Disturbia, and Transformers.