Twilight hangover Tuesday to you all, my little gingersnaps. I'm already missing Spank. She did take a piece of me when she left. Namely, one of my cats. I think that puts us in an open adoption situation or at the very least makes us lesbian co-parents once removed. I'm not sure which.

Speaking of Twilight, an "extremely upset" 18 year old girl got drunk and crashed her car because she was so upset at her boyfriend that she didn't see Breaking Dawn like she was supposed to. Honey, it is not worth getting drunk and crashing your car. Your heart will go on. Oh wait, wrong movie. Yeah, you'll probably die from not seeing it. Never mind.
Illinois Teenager Blames DUI Crash On Not Seeing 'Twilight' Film: Police Arrest Olivia Ornelas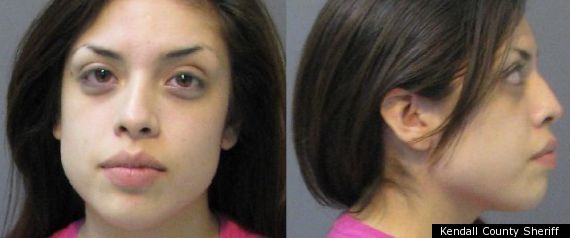 Thousands of dedicated fans turned out over the weekend to see "The Twilight Saga: Breaking Dawn - Part 1." But for one teenage girl, the tragedy of not making it was a lot worse than choosing between Jacob or Edward.
Police in Illinois arrested an "extremely upset" 18-year-old girl on Saturday after she told authorities that she crashed her car because her boyfriend did not take her to see the new Twilight movie.
Cops found Olivia Christina Ornelas "extremely intoxicated" and after discovering her car, missing the front right tire and spun out in a ditch off Route 71, the Chicago Sun-Times reports.
"Ornelas advised that she was extremely upset with her boyfriend because she did not see the movie Twilight like they were supped to," according to a Kendall County police report obtained by The Smoking Gun.
The film grossed an estimated $140 million over its opening weekend.
Ornelas is charged with driving under the influence and unlawful consumption of alcohol by a minor. Authorities released her after she posted $300 bond.
Source: huffingtonpost

Over the weekend, Tori Spelling's husband (Dean McDermott) twitpic'd a picture of their son. Only one problem. Tori was in the background lying naked with her boobs on display. I guess he's so used to seeing artificial things that he didn't notice.

Am I the only one who keeps confusing Tori & Dean with Leann Rimes & Eddie Cibrian?

Tori Spelling Did Your Husband Just Tweet Your Naked Boobs?


Dean McDermott set Twitter ON FIRE last night ... when he posted a photo of his adorable son ... that appeared to feature his wife's naked boobs in the background.
Source: TMZ

And now a special treat for those of you who are considering whether or not you should have kids. The answer is probably no. If you're still unsure, watch this video. This is what the mother said about the situation...

"Mommy was not feeling well and had to stay in the bathroom longer than usual during which my two boys, ages 1 and 3 took my new bag of flour out of the cupboard and destroyed my house. This is from ONE 5lb bag. Don't believe me? Hand a full bag to a 3 year old and see what happens."
Source: dlisted

And now for today's FAIL! Hey, at least she shaved her pits. Cause that would've made it even worse.


see more epicfails

And today's WIN!!! *drops a dollar when no one is looking*


see more epicfails

Hey, WTF??!! I don't really want to play this Chinese game.

And that's all the time I have for today. Keep your 5 pound bags of flour away from the kids, and take a lesson from the Australian Jewel Beetles... Sex is pretty fantastic. But sex with beer bottles is not good enough to risk dying.

Talk about beer googles. The bottles have the some of the features that the beetles find attractive. They're big, orange / brownish, and the dimple at the bottom of the bottle reflects light in the same way a female's wing covers would.

As a result of the un-'canny' resemblance, the males can't help but fall head over heels for the bottles and try to have sex with them. Obviously, they're unsuccessful, but being the troopers that they are, they try until the hot Australian sun kills them.
CLICK HERE for this week's product review on Mommy Hates Chemicals!