Tinkle Tuesday to you all, my little gingersnaps. You know there's hope for humanity when something like this is invented...
A video game placed in front of urinals at a bar, that are powered by urine. That's right, you steer with your gentleman's sausage and your full bladder. Your ability to wield your, uh... weapon determines how many points you earn in the game. I'm only sad that girls can't play.

Urine-powered Video Game: Men Play Creative Media At Bar Urinals
Reading in the john is about to get some competition as a favorite bathroom activity now that there's a new way to play video games.
A British company, Captive Media, has designed video games installed at bathroom urinals that men control with their stream of pee, the BBC reports.
Men relieving their bladders can aim at different sensors in the urinal to control the outcome of the game, according to the BBC.
There are three games to choose from: a skiing simulation, a trivia quiz with multiple choices, and a knock-down-the-penguins shooting gallery, The Telegraph says.
The average trip to the little boy's room lasts 55 seconds in Britain, giving just enough time for a short advertisement before and after a round of the video game.
The console was tested in Cambridge before being released at a London pub. The makers will open the floodgates to other bars and clubs in the next few months, Sky News says.
In other news, it's no secret that TLC embraces shows about Little People and big families. They are even starting a new reality show following the life of a Hermaphrodite (born with both sexes). Can't wait for that one.

Well now they've added the "Virgin Diaries". It follows a couple who are both virgins and even wait until marriage for their first kiss.

After seeing the promo for this, I'm guessing neither one of them has actually observed anyone else kissing before either, because I didn't know you could mess it up this badly. I think this should be used as an argument for why you SHOULD practice your kissing before you get married. I'm not even sure what they did fits under the category of "kissing".

Source: DListed

In celebrity news, Alicia Silverstone is so dedicated to saving the world and being eco-friendly, she even buys her clothes second-hand. That's very admirable of her. I think she's doing more than her share to save the world. In fact I'd say she's doing more than twice her share. Which obviously means she's picking up my slack so I can buy new clothes. Thank you Alicia!

Alicia Silverstone: Secondhand Shopper with a Cause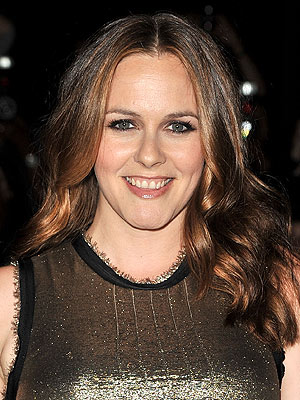 George Pimentel/WireImage
Rescuing lost dogs with her mom at a young age really made an impression on Alicia Silverstone. In her late teens, the actress started exploring cruelty-free products; by age 21 she was a full-on vegan; and at 23 she was subscribing to an eco-friendly lifestyle.
"It took so much effort to find out what products aren't tested on animals — that was an ordeal," Silverstone told reporters recently during a press event for EcoTools in New York. "But then when I became into eco, it took out all of that: if you're using all-natural products that have no toxic chemicals, it narrows the playing field."
These days, the actress is a strong advocate for all things green — she even makes the very anti-Hollywood choice of buying used clothes. "My second stop would be organic cotton," she said. Scouring Craigslist for household items — "Then you get it really locally, and it already exists," she explained — she stressed that she doesn't sacrifice taste and style when shopping secondhand, either. "I realize if you're not happy with what you have, you want to change it out more," she shared.
Though she admitted that sometimes finding specific products can take time — "Shoes are a little trickier, but they exist," she said — making these informed choices is necessary in her mind. "I'm trying to save the planet," she said. "I'm trying to save our lives."
While Silverstone doesn't have the time to make her own eco-friendly beauty and home products just yet — "I have so little time to even take a shower," the new mom and blogger joked — she said it's not an impossibility. "Maybe there will be a time where I'm making brownies for my kids and making soap," she mused, "and that's all I'm doing."

Source: People

And now, for today's (parenting) FAIL

see more epicfails

And for today's (passive-aggressive) WIN

see more epicfails

Hey, WTF?!! I know what I'm getting my dad for Christmas! Don't worry, he doesn't read this anyway. But he's a doctor. He'd love this.


see more WTF Pictures and WTF videos by Picture Is Unrelated

And that's all the time I have for today. Be very careful today if you decide to sit on any gerbils or other objects, lest you become a subject in the second volume of that book. Until tomorrow then...

The Filipinos are known for starting the Christmas celebration in September and ending in early January. Schools and work places alike hold Christmas parties with singing, dancing, skits, and games.
They have abundant traditions and festivities throughout their holiday season to mark Christmas Day and its importance to them. The Philippines is one of only two Asian countries that is predominantly Catholic and celebrates Christmas.