Thuggish Thursday to you all, my little gingersnaps. I appreciate you all giving me a sick day yesterday (well, you didn't so much give it to me, as I simply took it but still I didn't receive any complaints).
Now on to the news... you may have heard of the albino cyclops shark that was pulled from the womb of an adult shark caught by commercial fisherman in the Gulf of California. With so many hoaxes running around, experts thoroughly checked it out and say it is indeed a real cyclops shark. In fact it's not the only cyclops shark they've found, but it is the first time they've found one not-yet-born, in the womb of an adult shark. I say it is fitting that a Cyclops was found in the ocean as Poseidon is the father of the Cyclops and rules the seas. Makes perfect sense to me. And yes, the sky is purple in my world. In other news, the muscle relaxers my doctor gave me for my back are super nifty. Oh, am I not supposed to drink wine with those?

Albino Cyclops Shark Is Real, Experts Say
In this world of Photoshop and online scams, it pays to have a hearty dose of skepticism at reports of something strange — including an albino fetal shark with one eye smack in the middle of its nose like a Cyclops.
But the Cyclops shark, sliced from the belly of a pregnant mama dusky shark caught by a commercial fisherman in the Gulf of California earlier this summer, is by all reports the real thing. Shark researchers have examined the preserved creature and found that its single eye is made of functional optical tissue, they said last week. It's unlikely, however, that the malformed creature would have survived outside the womb.
"This is extremely rare," shark expert Felipe Galvan Magana of Mexico's Centro Interdisciplinario de Ciencias del Mar told the Pisces Fleet Sportfishing blog in July. "As far as I know, less than 50 examples of an abnormality like this have been recorded." [See photos of the one-eyed "Cyclops" shark]
Pisces Fleet, a sportfishing company, rocketed the Cyclops shark to viral status online this summer with their photos of the creepy-cute creature. But this isn't the first time that reports of a mythical-seeming creature have spurred media sensations — last week alone, Russian officials announced "proof" of a Yeti, and paleontologists spun a theory about an ancient Kraken-like squid. Few reports of mythical beasts, however, come with proof.
Cyclops shark
The Cyclops shark is an exception. While rare, "cyclopia" is a real developmental anomaly in which only one eye develops. Human fetuses are sometimes affected, as in a 1982 case in Israel reported in 1985 in the British Journal of Ophthalmology. In that case, a baby girl was born seven weeks early with no nose and only one eye in the center of her face. The infant, who lived only 30 minutes after birth, also had severe brain abnormalities.
In 2006, a kitten born with one eye and no nose (a rare condition called holoprosencephaly), created a stir online as news organizations and bloggers tried to determine if the bizarre photos of the animal were real. A veterinarian confirmed the kitten's condition; "Cy," as the cat was known, lived only a day. The remains were sold to the creationist Lost World Museum.
The fisherman who discovered the Cyclops shark is reportedly hanging on to the preserved remains, news outlets reported. But scientists have recently examined and X-rayed the fish, authenticating the catch. According to Seth Romans, a spokesman for Pisces Fleet, Galvan Magana and his colleagues will publish a scientific paper about the find within the next several weeks.
Romans told LiveScience that the fisherman who caught the strange shark is "amazed and fascinated" by the attention his catch has drawn.
It's not the first strange shark fetus Galvan Magana has found; he and his colleagues discovered two-headed shark embryos in two different female blue sharks. It's possible that one embryo started to split into twins, but failed to completely separate because of crowding in the womb, the researchers reported in January 2011 in the journal Marine Biodiversity Records.
Read more:
http://www.foxnews.com/scitech/2011/10/18/albino-cyclops-shark-is-real-experts-say/#ixzz1bHOpj7bT
In can't-seem-to-stay-out-of-court-celebrity news, Lindsay Lohan has had her probation revoked. I'm not really sure why. I didn't care enough to read about it, but I am interested in her appearance. I get that she's wearing all white to project an air of "innocence" but I think the Zombie makeup is totally contradicting that. Seriously, who does their blush like that anymore? Did she even look in the mirror before arriving at court? Cause I think that alone should be a jailable offense.

Source: DListed

You may have been waiting to see Mariah Carey and Nick Cannon's twins... one named after a bipolar actress who committed suicide and one named after an adjective, Monroe and Moroccan. Well, they are finally revealed!!! Well the backs of their heads are. Seriously people. They call this news? *BIG HEADLINE* They show off the back of their twins heads!!! *throws computer* Okay, so that was more of a virtual throw in angry protest and not a real throw, because Lord knows I would never throw my Macbook Pro. Not even for the reveal of the back of two babies with weird names. ABC, that's the stupidest picture to give, announcing the reveal of the babies and then showing us the back of their heads. They are just BABIES. My curiosity to see if the front of their heads looks better than the back of their heads isn't enough to make me sit down and watch 20/20. This picture should've been today's FAIL.

Mariah Carey, Nick Cannon Show Off Twins (PHOTO)
It's taken over five months, but we finally have our first look at Mariah Carey and Nick Cannon's twins!
Ok, so we can't see their faces -- yet -- but the photo is a great tease leading up to the big reveal of Moroccan and Monroe on ABC's "20/20" this Friday.
We may not have seen much of the twins since their April birth, but we definitely got an eyeful of Carey during her seemingly never-ending pregnancy.
Check out the photo of the happy family -- with Barbara Walters, of course -- and check out more photos of celebrity kids below!
PHOTO: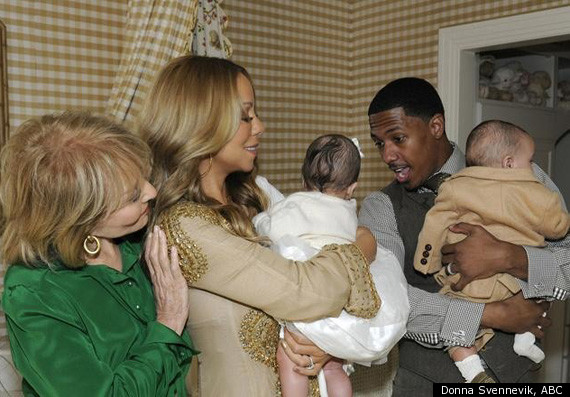 And now, for today's FAIL. I don't really want bread made by a Ho. I don't really want Ho jelly either. *shudders* Thanks anyway.


see more funny videos, and check out our Yo Dawg lols!
And for today's WIN!!!


see more WIN - Epic Win Photos and Videos
Which reminds me, last night Mr. G and I watched "True Legend" (GREAT Kung Fu Movie, by the way and the last movie David Carradine made before he died. He only had a tiny part in the movie and yes I couldn't look at him without thinking about auto-erotic asphyxiation but thankfully that didn't ruin the movie. And no worries, if you're not fluent in Mandarin, it does have subtitles in English, assuming everyone that reads this blog is literate.) ANYWAY, my new kitty Opie (that I flew to Orlando to get) was scared of and/or ready to fight the subwoofer during the movie. I got a bit of it on video just for you. You're welcome.

And now, for today's WTF?!! It's approaching Halloween. What creative pumpkin displays are you planning on this year?


see more WTF Pictures and WTF videos by Picture Is Unrelated

Remember Friday's Boob Poem with pictures and giveaway? Well the winner never claimed her prize, so I did a re-draw. That's right, there's a new winner of this shirt...

Congratulations Verbenabeth!! Email me your size and mailing address please.
BUT WAIT!!! THERE'S MORE!!!

I also have a second shirt (same design) that is a size 2XL (which would be the equivalent of a size XL at the Gap) which I will give away to the first person who emails me asking for it.

**UPDATE** The size 2XL shirt has been claimed and is no longer available.

And that, my friends, is all the time I have for today. Go catch yourself a one-eyed shark and meet me back here same time, same place tomorrow. Until then, there's something I bet most of you have never known...


Easter eggs are pretty common in movies, and this comes as no surprise, since George Lucas produced and wrote the Indiana Jones movies. You can see the glyphs of Threepeeo and Artoo on this column. Hmm... maybe Star Wars was a long time ago, but it wasn't as far far away as we thought.