Mysterious Monday to you all, my little gingersnaps. You may have figured out by now that I'm not your average, sane person. And the entire G-family is also a bit nuts. So here is a discussion Mr. G and I had on Saturday.
Me: "Are you starting the new movie on Monday?"
Mr. G: "No, I just heard it pushed back, so I'm off all week."
Me: "We should go somewhere with the kids. San Diego?"
Mr. G: "We should go to Hawaii or something, hahahaha."
Me: "We SHOULD go to Hawaii."
Mr. G: "Okay, let's do it. We'll make our plane & hotel reservations when we get home."
Me: "Monday-Sunday?"
Mr. G: "Yeah!"
Me: "Sweet!"
And that, my friends is why I'm probably on a jet plane to Hawaii (Oahu) while you are reading this. And this is also why two people who are both the youngest in their families should never get married... because no one is responsible and you end up doing crazy things like this. I'm hoping to be able to blog during the sun's peak hours, when I'm hiding in the hotel (as the ginger that I am, and as evidenced by my last trip to Hawaii.) though the kids will be with us, so I expect I won't get lei'd as much as I did our previous trip to Hawaii. Though we do have separate rooms! #crossesfingers

In the news, a woman had a carpenter build her a miniature version of The Burrow (the Weasley's house in Harry Potter), attached to the back of her house and made for her cats. This is something I would totally do. *wondering how to get the contact info for the carpenter*

Thanks Susan!

And we finally get to see the blessed twins' faces!!! And they look like regular babies. I must say I approve of their nicknames, Roc & Roe instead of being reminded that they are named after a bipolar actress that committed suicide and an adjective.

Mariah Carey & Nick Cannon Debut Roc & Roe!
Check out these first pictures of Mariah Carey and Nick Cannon's twins, son Moroccan and daughter Monroe!
The couple debuted their adorable babies, who are 6 months old, on 20/20 during an interview with Barbara Walters.
Not only did Roc and Roe make their first public appearance, but Mariah and Nick also opened up about their marriage and getting pregnant.
"The main thing I did that was tough, was to go on progesterone like every month… and then when I was pregnant, I had to stay with the progesterone for 10 weeks," Mariah said of her difficulty getting pregnant.
"They're incredible…But I will say that they really respond to music," they added about their little ones.
Ladies and gents, prepare to feel old. Really, really old. Jonathan Lipnicki, that little kid with the glasses in "Jerry McGuire" just turned 21. Am I the only one who thought the kid had Downs Syndrome?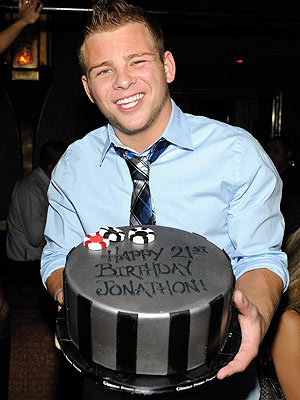 Credit:

David Becker/WireImage
Originally posted 10/23/2011 10:30AM


Jonathan Lipnicki, the inquisitive tyke who charmed Tom Cruise's Jerry Maguire with his oversized glasses and musings on bees' ability to smell fear in the 1997 film, turned 21 Saturday.

The actor is celebrating the milestone birthday in Las Vegas with his parents, his sister, an aunt, three cousins and an assortment of friends.

The Lipnickis celebrated Friday with a dinner at Tao before arriving a little after midnight at the Surrender Nightclub at the Encore, where he enjoyed vodka cocktails with his buddies late into the night.

The party continued Saturday with a cake and dinner at Lavo.
And now, with today's FAIL. Please, anything but JesusWeen.


see more funny videos, and check out our Yo Dawg lols!
And for today's WIN!!! Do you hear that sound? That's the sound of everyone around the world who ever got a parking ticket, who is now cheering.


see more funny videos, and check out our Yo Dawg lols!
Hey, WTF??!!! Today's WTF picture is especially for Jamie, who will be co-authoring our new "Natural Products" review blog, who together with Graceling convinced me to try the DivaCup so I could review it. Say it together... #ewwwwww.


see more WTF Pictures and WTF videos by Picture Is Unrelated
And that's all the time I have for today. Hang on to your seats and eagerly await our reviews of the DivaCup and occupy yourselves while I enjoy Hawaii. I will try to blog from there, but NO PROMISES. Until next time, my friends...

Remember Excite.com? Neither do most people. However, they were big cats in the search engine business right before the year 2000. Back then, Google was not the behemoth it is nowadays; in fact, it was still a project from Stanford Graduate students who thought it was taking too much time that would be better spent studying.
Sergey Brin and Larry Page, the creators of Google then went to Excite and tried to sell him the search engine for $1 million. Apparently this was a laughable proposal for then CEO, George Bell. He not only rejected their offer, he also threw an Excite venture capitalists out of his office when he tried to negotiate them down to only $750,000! This has gone down in history as one of the dumbest business decisions ever.