Waikiki Wednesday to you all, my little gingersnaps. Yes, I'm rubbing it in a bit. We took a Submarine ride yesterday and today we are taking a helicopter tour around the island. Oh, and did I mention the 80 minute deep tissue massage I had last night at the hotel spa? I'm so mean, aren't I?

Some of my favorite pictures from yesterday are:

And now for the news... did you know that cheese is the most stolen food in the world? Well now you do. I'm not at all surprised. Everything goes better with cheese. #supernatural


Cheese Most Stolen Food In The World
Move over Kobe beef and aged whiskey. It turns out cheese is the most stolen food in the world, says a recent global study.
That's the finding of a new report by the U.K.'s Center for Retail Research, which surveyed 1,187 retailers representing more than 250,000 retail outlets across 43 countries.
The figures showed 4% of cheese went missing from store shelves.
"The biggest threats for retailers are employees and shoplifters," said Dr. Joshua Bamfield, Director of the Center for Retail Research in a phone interview with The Huffington Post.
With the price of cheese rising, Bamfield says this is far from surprising given it could be seen as "a lucrative business opportunity for small time criminals."

"It's not just grannies saying, I need some cheese I'll just go and steal it. A lot of the theft is for resale and a lot of this cheese will be resold into other markets or to restaurants."
Other "high risk" foods to make the most stolen food list include fresh meat, chocolate, alcohol, seafood and infant formula.
Though the National Retail Federation does a survey each year on retail crime in the U.S., it doesn't track the most stolen goods and even found it unexpected to learn cheese topped the list.
"Yes, I'm surprised. For a gut check I called one of the largest grocery chains in the U.S. and they were surprised as well," said Joseph LaRocca from the National Retail Federation in an email to The Huffington Post.
Instead, LaRocca expected a less lucrative item to trump cheese. "Every sector of retail has their 'target items'....If I had to make a personal guess, it would be chewing gum," LaRocca added.
But it shouldn't really come as that much of a surprise that cheese is that sought after. Remember the cheese thieves of Oregon, who stole $600 of gouda and blue cheese wheels?
Either way, theft is a growing concern for retailers, especially since the annual amount of stolen retail goods increased by 6.6% since June 2010. But theft also adds to the global average family grocery shopping bill by an extra $200. In the U.S., that figure was $435, noted the report.
And now, for unintentional funny educational videos...

After watching this video, you know you wish you had started working for Wendy's in the 90's.

In celebrity news, Steven Tyler blames food poisoning for the reason he slipped in the shower and injured himself. Hmmm.... I wonder if it's the same kind of food poisoning I got from drinking 6 (or was it 7?) Lemon Drops.
Steven Tyler Food Poisoning to Blame for Shower Accident


Steven Tyler was suffering from dehydration caused by a bout of food poisoning when he collapsed in a Paraguay hotel shower today ... sources connected to Tyler tell TMZ.

Tyler was reportedly treated for injuries to his face ... including loss of teeth ... after the accident occurred.

TMZ spoke with the singer's manager ... who described Tyler's injuries as "minor" and said Steven has already been released from the hospital.

The rep notes that Aerosmith has rescheduled tonight's concert for tomorrow due to the accident -- and says Tyler would like to "sincerely apologize" for any inconvenience this may have caused his fans.
Looks like Jessica Simpson might not get any of the magazine offers (for up to $500K) that she has been waiting for, to announce her pregnancy, thanks to the poprocksies. (that was a horrible run-on sentence. Yes I do homeschool, but as long as I acknowledge it was incorrect grammar, we can all move on, right?) Anywho, Jessica also tweeted a picture of her bare feet in a restroom, cracking some joke about being height-challenged. WTH was she doing in a bathroom with bare feet? I don't even go in my own bathrooms with bare feet, even though I have house cleaning fairies who clean for me. Well, they're not so much fairies as they are Mexican, but I leave when they arrive, and I come home after they've left and the house is clean. So I like to think of them as my house fairies. I also have lawn fairies who come every Monday and do the lawn. They too are more Mexican than actual fairies, but the same rule applies... I come home to a freshly cut lawn and hardly ever see them... so I like to pretend they are fairies. Like I said, I like it here in my world. Don't burst my shiny bubble. What does this have to do with a very pregnant Jessica Simpson with poor hygiene practices? Absolutely nothing. Unless fairies stole her shoes while she was on the toilet.

Jessica Simpson Tweets Barefoot Bathroom Photo And Looks Extremely Pregnant In New York (PHOTOS)
Jessica Simpson is giving a new meaning to barefoot and pregnant.
Yesterday, the 30-year-old singer seemed to have some problems in the bathroom at luxury department store Bergdorf Goodman in New York City.
Simpson tweeted a photo of her bare feet, which were apparently too short to reach the floor, and wrote "Short girl problems." While Bergdorf's definitely has a fancy bathroom, why Jessica was barefoot in a bathroom stall to begin with is still a mystery.
The singer and designer is in town with her mom and sister Ashlee to work on their tween denim line for the Jessica Simpson Collection, reports Us Weekly.
And while Jessica still hasn't addressed pregnancy rumors, X17Online snapped some photos of the singer wearing sky-high heels and her ever growing belly. If that's not a baby bump, we don't know what is.
We've heard Jess is holding out to find a magazine that will pay her big bucks for the official news, but it looks like time is running out.
Click over to X17Online for more photos.
PHOTOS: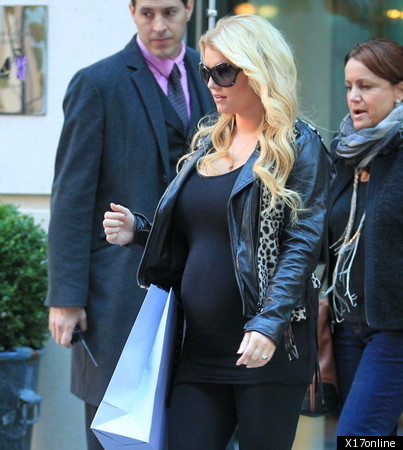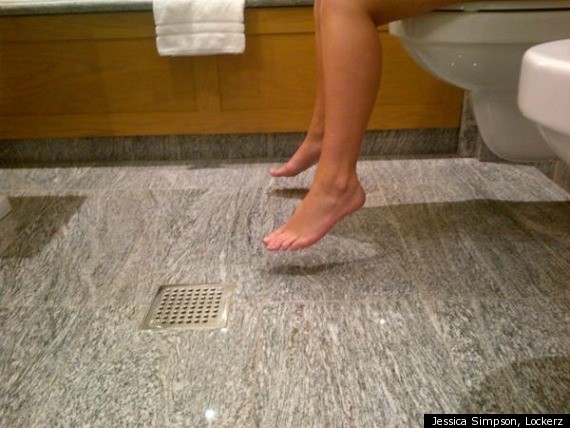 And now for today's FAIL. NOOOOO, do not connect the dots. I don't want to know how Eddie helps the children. Eddie should not be helping the children. Eddie needs to seek help and stay far away from children.


see more funny videos, and check out our Yo Dawg lols!
And today's WIN!! When all else fails, blame your smartphone and it's autocorrect feature.


see more funny videos, and check out our Yo Dawg lols!
Hey, WTF??!! It's Power Ranger underwear for adults! In other words, "How to die a virgin" underwear.


see more Poorly Dressed
And that's all the time I have for today. The Waikiki Sheraton finally got us in the right rooms and now Mr. G and I can share a King Size bed (thank God!). You don't even want to know how many times I almost fell out of our shared double bed last night. Now I must get my beauty rest get back to reading my new book (The Unbecoming of Mara Dyer). Speaking of reading, I just joined GoodReads. Are you on it? Friend me! Let's share book recs! Until tomorrow then, I leave you with this...

His name is John Ratzenberger, and his roles include PT Flea in "A Bug's Life," Mack in "Cars," The Abominable Snowman in "Monsters Inc.,"Underminer in "The Incredibles," and the sting-ray teacher in "Finding Nemo."
Pixar thinks of him as their 'Lucky Charm' and so they always find a role for him to play in every movie that they make. Ratzenberger is best known for his role in the massive 1980s hit sitcom "Cheers"